'I enjoy a challenge', Nathan Lawrence, senior research scientist at Schlumberger Research, tells Emma Davies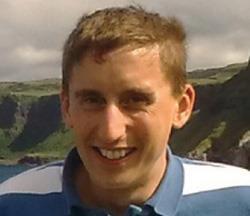 Most undergraduate research projects are carefully typed up and then equally carefully 'filed' away. Nathan Lawrence is lucky enough to see his early research put to very good use in a new hydrogen sulfide sensor for oilfields - the first of its kind. Hydrogen sulfide is generated in oil wells and its highly corrosive nature makes it a real pain for oil companies. Detecting the gas at the high temperatures and pressures in boreholes - 10 000 to 20 000psi and 125-150?C - is notoriously difficult. As a senior research scientist at oilfield services company Schlumberger, Lawrence is part of a team putting the finishing touches to the research phase of a new electrochemical hydrogen sulfide sensor, which should be able to withstand extreme environments.
No doubt
Lawrence appears to have had few, if any, moments of career doubt. As a teenager he was certain he wanted to study chemistry; he went on to achieve a first class MChem at the University of Oxford, UK. His research life has progressed seamlessly from one stage to the next and Schlumberger has been involved from the start, sponsoring both his undergraduate project and DPhil in Richard Compton's team at Oxford. In 2010, Lawrence was awarded the RSC Harrison-Meldola memorial prize for 'research originality and innovation in the field of applied analytical electrochemistry'.
As part of his DPhil, Lawrence was also involved in developing a pH sensor for use in extreme environments. Intellectual property realting to pH sensing was licensed by the University of Oxford, through its technology transfer company ISIS, to Senova Systems in the US in 2008. Unfortunately, by the time ISIS had taken on the project, Lawrence had already left Oxford for a year's postdoc with Joe Wang at New Mexico State University, US.
During this year, Lawrence studied the electrochemical behaviour of analytes at carbon nanotube modified surfaces. The work gave insights into how the synthesis of the nanotube was key in obtaining efficient electrocatalytic processes. 'I enjoyed my time in the US in an exciting and challenging environment,' he says.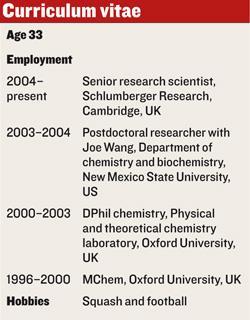 When he came back from the US, Lawrence was offered an academic post at Hull University, UK. But Schlumberger beckoned, with the lure of commercialisation of the H2S sensor. Lawrence couldn't resist the appeal of following a project through from start to commercial finish and headed straight to Schlumberger's Cambridge site, where he has worked for the past seven years. He works in a sensor group, within a chemistry department of about 25 people.
Feeling lucky
Apart from the frequent trips abroad and the pressures and deadlines of a commercial project, Lawrence's life isn't that different to his university days. He spends many happy hours in the lab. 'I haven't lost that enthusiasm yet,' he laughs. He is only occasionally frustrated by project pressures that prevent him from straying down other investigative routes when something interesting crops up.
Full field trials of the H2S sensor are planned for next year and Lawrence is 'involved in all aspects of the design process', working closely with an engineering centre in Japan. He is particularly enjoying the engineering aspects and the fine detail of the final product. 'I am very lucky to have the opportunity to work at the chemistry-chemical engineering interface,' he says.
Other sensors are in the pipeline and the sensor team continues to work with Compton's Oxford group. They are also looking at new ways of using electrosynthesis, where reactions can be triggered at known times and under known conditions. This could be particularly useful for controlling polymerisation in oilfields.
Could Lawrence ever be tempted to set up his own company? 'Never say never,' he says.
Emma Davies is a science writer based in Bishop's Stortford, UK