Charlotte Ashley-Roberts explains what the Reach regulations could mean for you and your role
Q: I've just started working in industry and I keep hearing about 'Reach'. Can you point me in the right direction to find out more about it? Is it important for my role in the lab?
A: Reach is an EU regulation dealing with the registration, evaluation, authorisation and restriction of chemicals. It was brought into force in 2007 and it controls how chemicals are prouced, acquired and used in Europe. You don't mention what type of laboratory you work in, but if you use chemicals in any way the likelihood is that your industry will be affected.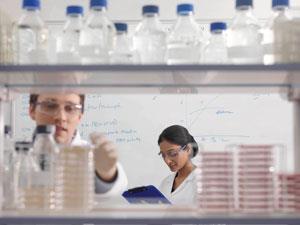 Depending on what your company does, it will be affected in different ways. For example, if your company makes or imports chemicals from outside the EU then you will need to register each individual chemical with the European Chemicals Agency (ECHA) in Helsinki, if they are in quantities of 1 tonne or more.
In order to register a chemical, a 'dossier' containing technical data and risk assessment information is submitted to the ECHA. The deadlines for registration have been phased; the final deadline (for chemicals manufactured or imported above 1 tonne per year) is coming up in May 2018.
If you use chemicals, whether its manufacturing them or cleaning the bench down at the end of the day, then Reach is intended to make your life a bit easier, not to mention safer, by increasing the availability of information. The information is contained in safety data sheets (SDSs), which suppliers are obliged to provide for hazardous substances and mixtures.
If you use a chemical or mixture in the way that it is expected, for example using a paint or coating to paint or coat a product then Reach probably won't mean significant changes to you or your processes.
You should check whether any of the chemicals you use are restricted in any way (under Annex XVII of Reach) and whether they have been put on the candidate list for substances of very high concern (SVHC). Chemicals on this list may be heavily restricted and only permitted for specific uses. These chemicals are also likely to be phased out and therefore may be difficult to source. There are currently 151 substances on the candidate list, and it is updated regularly so it is worth keeping an eye on. Your suppliers should be able to inform you about the status of the chemicals they supply.
If you are in an R&D role and are using chemicals in a novel way then you may need to let your supplier know; they will need to consider the use in terms of registration. Alternatively, you can go to the ECHA directly and let them know about the use and potentially provide a risk assessment yourself.
You should always follow the conditions of use on the SDSs. If you use different measures to assess the risk than those described on the SDS then you should be able to justify why your measures are as good, if not better than those described. If you find that you need to change your risk management measures then you have a maximum of 12 months to do so.
Finally, it's very likely that your company is already adhering to the Reach regulations and unless your role carries responsibilities that relate specifically to Reach, you'll probably find it doesn't affect you very much. That said, the legislation does affect all chemical-using companies in the EU so, as a chemist, it makes sense for you to be aware of its requirements, especially if your role includes responsibility for carrying out risk assessments. And remember that developing a broader awareness of issues affecting chemists and the chemical industry is all part of your continuing professional development.
If you have more advice you'd like to share about this month's question – or have your own career conundrum for Charlotte – please write to chemistryworldjobs@rsc.org