Singapore is tiny, yet it has a vibrant research community. Those considering an eastward move should try this gateway to Asia, Helen Carmichael reports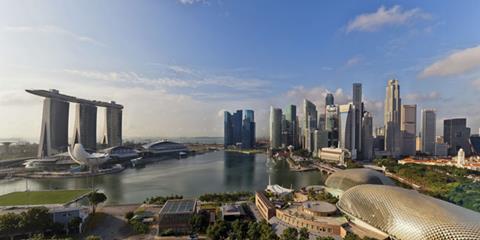 John Wong is actively involved in developing the biomedical sciences as a pillar of Singapore's economy, and is particularly interested in cancer drug development. Wong holds several senior positions including vice provost for academic medicine at the National University of Singapore (NUS) and director of the National University Cancer Institute, Singapore.
Low on natural resources, Singapore is nevertheless rich in intellectual capital. 'Singaporeans have extraordinarily high levels of education,' Wong says. 'Science is valued … and there is a real push to develop the Singapore population to world-class standards.' And with China, Japan, Korea, India and Indonesia all within six hours' flight, Singapore's location puts half of the world's population within reach, he adds.
Enjoying strong economic growth since the 1970s, Singapore has transformed from a third to a first world country in Wong's lifetime. This development has led to a higher incidence of the chronic diseases prevalent in Europe and the US, yet Asia still has problems with infectious diseases, from traditional scourges such as malaria to new threats like Sars (severe acute respiratory syndrome).
This backdrop of health issues attracts biomedical experts. 'The whole issue of pharmacogenomics becomes very important,' Wong says, pointing out Singapore's unique population: 5 million people of Chinese, Indian and Malay ethnicity. The pharmaceutical industry has become more aware of how certain key drugs behave differently in these populations, leading to an associated boom in Asian drug trials.
'Singapore's research scene is a very vibrant one,' says Marcus Dass, who works in London for government agency Contact Singapore. 'We are on an upward trajectory in terms of investment, as well as focus and commitment from the government.' Contact Singapore acts as a starting point to learn about research opportunities and hosts a monthly contact group for those planning a move eastward.
The scientific community has grown significantly within the past 10–15 years, and welcomes applicants from anywhere in the world. The National Medical Research Council has several schemes running to attract talent, as does the Ministry of Trade and Industry's A*Star (Agency for Science, Technology and Research). A*Star provides competitive grant support and research resources to scientists and engineers in its research institutes as well as other publicly funded institutions such as universities, hospitals and speciality centres.
Singapore has four autonomous universities, and the NUS and Nanyang Technological University lead the way in biomedical sciences. The universities house research centres of excellence, which Wong describes as 'very competitive, pinnacle programmes'.
Beyond biomedical sciences, major oil and chemicals companies also have a Singapore R&D presence – for example, Shell has just announced its intention to start up a diphenyl carbonate demonstration plant on Jurong Island next year.
Singapore's size has its own effect on the scientific culture – smaller than Greater London, it can be crossed in about 30 minutes by road. 'One of the things that you hear from researchers who have been to Singapore is that it's a very close-knit community,' says Dass. 'Whether you are in private or public research labs. Singapore is a small country – collaboration is very easy.'
Case study: occident and immigrancy
Pieter Eichhorn is a junior principal investigator at the Cancer Science Institute (CSI) of Singapore, and an assistant professor at the Yong Loo Lin School of Medicine. With degrees from the University of Western Ontario, Canada, and the University of Newcastle, UK, his early career included work at the Netherlands Cancer Institute, the Vall d'Hebron Institute of Oncology in Barcelona, Spain, and Massachusetts General Hospital and Harvard Medical School in the US. Eichhorn's latest career move saw him weighing up job offers from a pharma company in San Francisco, the University of Edinburgh and the position he eventually accepted in Singapore. He says that the most important factor in his decision was 'Will I be able to advance my career, while having a good professional–family life balance?'
The CSI – currently on a mission to become the pre-eminent cancer institute in Asia – offered the most generous financial package, with SGD300,000 (£151,000) alone allocated to running the lab. This attractive offer, coupled with Singapore's infrastructure and access to hospitals and pharmaceutical companies for collaboration, was attractive. 'The top 10 pharmaceutical companies in the world all have operations in Singapore,' Eichhorn adds.
Eight months in, Eichhorn says that his family is settling well, noting the large expat community, generous salaries and the country's western feel: 'You aren't stepping into a place where English isn't spoken and you can't adapt culturally; for people who would like to live in Asia for a few years, it's a good place to start.' He describes the core funding that exists within his institute as fantastic. 'There is a larger opportunity there to get a significant amount of money into your lab at an early stage,' he says.
Eichhorn sometimes feels the distance from European and American research hubs – he may be less likely to be invited to conferences – but says that he does well with international collaborations. 'You just need to apply to Singapore – go out and take a look … it will be a good decision.'
Meet Contact Singapore at Chemistry World Jobs Live