May Turner tells Phillip Broadwith how she balances topping the music charts with developing the latest generation of engine oils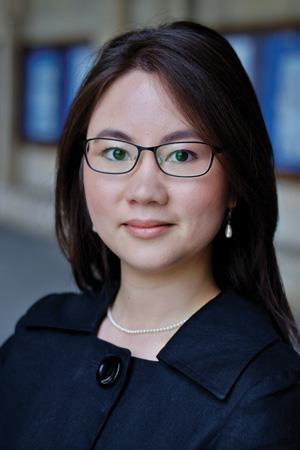 Not many professional chemists can also claim to have hit the top spot on a UK music album chart. May Turner, a technology manager at BP, is one of the few.
'I'm very passionate about music, and I've always played a lot of instruments,' she says, 'but singing is my main passion.' Having sung throughout her time at university, she was keen to continue after leaving. 'I now sing with a very good chamber choir in Oxford.'
'We were fortunate enough to record an album of Christmas music by a contemporary composer, which ended up going to number one on the specialist classical chart either side of Christmas 2013,' Turner explains. 'We even got a slot singing live on BBC Radio 3.' The choir is non-professional, she adds, and is coincidentally full of scientists and other people with analytical minds, like doctors, surgeons, accountants, mathematicians, with very few trained musicians. 'It's a lovely thing to do, completely different from my day job.'
Slick design
When not singing, Turner is involved in managing BP's lubricants products across Europe and Africa. That involves working across various teams, from product development to bring together new formulations, though marketing and supply chain, to speaking directly to customers to understand their requirements.
After completing her PhD in heterogeneous catalysis and surface science with Richard Lambert at the University of Cambridge, Turner knew she wanted to work in industry rather than academia. 'That was the plan all along,' she says. 'I wanted to get involved with applying technology to improve things in everyday life.'
She applied to BP's graduate scheme for chemists. It appealed because of the variety of roles available across a broad range of chemistry disciplines. She secured a position at BP's technology centre in Pangbourne, UK, where the company develops new fuel and lubricant products. 'Product development was what attracted me – using technology to make things that people can actually use,' she says.
The work involves every part of the recipe that makes up, for example, an engine oil – from performance-enhancing additives to choosing and blending the base fluids.
'When I joined, I didn't have any background in lubricants, and that's where the training really kicked in,' Turner says. She was surrounded by a mixture of specialist automotive engineers and tribologists, as well as more general chemists. 'The intention is to have a variety of different people, which generates a lot of new ideas.'

Through two years on the graduate scheme and a further three in product development, Turner worked on lubricants designed for engines of all sizes, from tiny motorcycles to trucks. 'It's important to understand the differences in formulation, and the different requirements of those engines, as well as the requirements of the customers using them,' she explains.
Driving success
When an opportunity arose to transfer to a different team, Turner saw a chance to get involved in the next stages of the product lifecycle – transforming the recipes she'd been developing into commercial-scale products and getting them to customers. 'You need a technical background to do that, because you need to understand what goes into the product and how to optimise the manufacturing,' she says. But it also involves awareness of marketing – to recognise the properties customers are looking for, analyse trends, spot where there is a need or an opportunity for a new product, and feed those requirements back to the development teams.
Within Europe and Africa there are over 100 territories, with very diverse cultural, economic, geographic and climatic conditions. These pose different challenges and require different products – while European sports cars may need high-performance oils, they don't have to deal with the abrasive sand, harsh climate and extended service times that a mining vehicle would, for example. 'A lot of my role now is about developing technical claims,' Turner says. Business customers need to be convinced that a new product will deliver the performance they need, and want data to back up marketing statements.
Coping with these varied demands draws on skills developed throughout Turner's career, not least her chemistry background. 'I used to think that my PhD research was a very niche area, only interesting to me and a few other people in the world,' she says. 'I've since realised that what I learned then is applicable to a lot of other areas of chemistry, and is still applicable to my job now, although at the time it seemed a million miles away.'