Meet the chemists making creative use of their scientific skills
For some students, an attraction of studying chemistry is that there's not too much writing involved. While experiments have to be written up, there's not the same requirement for writing countless interminable essays as in disciplines such as history and psychology.
But not all chemists share these feelings. For some, the love of writing even goes beyond reporting results or reviewing the scientific literature. They enjoy writing fictional stories. Some enjoy writing them so much that they leave chemistry behind entirely to become professional writers and novelists. But chemistry often doesn't leave them behind, finding its way into their writing in a variety of ways.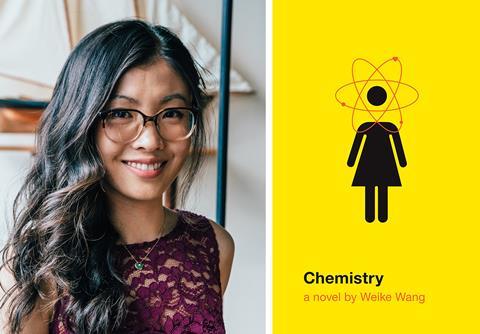 For Weike Wang, a writer based in New York, US, the influence of chemistry has been quite explicit – the title of her first novel, published in 2017, is Chemistry. A coming-of-age story about a young chemistry student at a university in Boston who must juggle the demands of both her academic career and her personal life, it won several literary awards and is currently being optioned for a feature film by Amazon Studios.
The story was partly inspired by Wang's own experiences studying chemistry as an undergraduate at Harvard University. 'It's a lot of fictionalisation of things that I've seen,' she says. She wrote Chemistry as her thesis for a master's degree in creative writing that she took at Boston University, which she did at the same time as pursuing a doctorate in public health at Harvard University.
'I think I went into creative writing sort of accidentally,' she says. 'It's something that I feel passionate about and wanted to explore, but it's so hard to get into that field.' Her break came when her mentor at Boston University showed Chemistry to an editor at a major publisher. 'I was incredibly lucky in that regard.'
She is now working on her second novel, about a doctor working in an intensive care unit, partly inspired by her background in public health. Both novels contain quite a bit of science and scientific explanation, although the science sometimes appears in unconventional ways.
'In Chemistry, I weaved in a lot of the knowledge I had for science,' Wang says. Her main character tries to understand her own life through scientific concepts, using science as a kind of psychological crutch. 'I found it easier to explain how she was thinking through scientific aphorisms.'
Science writing
Perhaps unsurprisingly, science is a recurring theme in many of the novels written by chemists. Two of Clare Dudman's three novels are fictionalised accounts of the lives of pioneering scientists. Wegener's Jigsaw (published as One Day the Ice Will Reveal All Its Dead in the US) is about Alfred Wegener, who proposed the theory of continental drift; 98 Reasons for Being is about Heinrich Hoffmann, a 19th century psychiatrist who wrote a famous book of cautionary tales for children called Shockheaded Peter.

Dudman has a doctorate in chemistry from King's College London, and worked as a research chemist in industry and then as a science teacher. She became a novelist after she entered a bedtime story she had written for her son into a competition, which she won, resulting in the story being published. From there, she started to write novels for adults.
Editors looks for science fiction that is grounded in science
More recently, Dudman has begun to move on from science to other interests. Her third novel, A Place of Meadows and Tall Trees, is a fictionalised account of the establishment of a Welsh colony in Patagonia in the late 19th century, while her most recent book is a factual history of Chester. 'I've sort of branched into more historical stuff than science now,' she says.
For Catherine Asaro, an award-winning US science fiction and fantasy author, science has always played an important role in her novels, ever since the first one, Primary Inversion, was published in 1995. 'My books draw a lot on science,' she says. 'Editors said, "This is what we're looking for, science fiction that is really grounded in science," but not a lot of authors have that kind of background.'
Asaro has a doctorate in chemical physics from Harvard University, and went on to become a professor at Kenyon College in Ohio. She had always written stories, though, and left to become a professional author when her daughter was born. 'To be honest, I was lucky,' she says. 'I sold fairly quickly to a major publisher. Usually you get a lot of rejections.'

Her more than 30 novels are often space epics, with many of them concerning an interstellar civilization known as the Skolian Empire, but they always contain a solid core of science. 'When I first started writing, of course there was science in it, because that's how I think,' she explains. She has used her scientific knowledge for everything from designing realistic alien planets to determining how relativistic time dilation from travelling at the speed of light would affect space battles.
The trick is to introduce this science in an engaging way. 'Scientific exposition in science fiction books is an art, because you don't want to bring the plot to a screaming halt to talk about the science. You have to find a balance between describing what's going on and not boring your readers,' explains Asaro. She often adds a non-fiction section at the end of her novels so she can explain more of the science without cluttering up the story.
It requires a lot of research to get the science right, but that is something that Asaro is perfectly comfortable with doing. 'As a scientist, I learned how to do real quality research,' she says. Wang and Dudman also think that their backgrounds in chemistry helped give them the skills they needed to conduct research for their novels, even when that research is in areas other than science.
Money matters
Although all three are published novelists, Wang, Dudman and Asaro have all tended to supplement their writing incomes with other forms of work. As in many other creative industries, a few best-selling authors like JK Rowling and Stephen King earn huge sums, but the vast majority earn far less. According to the Society of Authors, the median annual income of a professional author in the UK is just £10,500.
'I couldn't subsist on what I make from writing,' says Wang; Dudman agrees. To top up her earnings, Wang teaches creative writing at the University of Pennsylvania and Dudman has also taught creative writing classes in the past, for which being a published novelist is a useful qualification.
During much of her time as a novelist, Asaro continued to conduct scientific research and to teach chemistry, physics and maths, although she has always considered writing to be her main occupation. More recently, she has topped up her earnings via a social media platform called Patreon, through which her readers can communicate with her and pledge money to support her. This has allowed her to give up teaching and write full-time.
Money is not the main reason why many authors write stories; they do it because they love it. 'It's a privilege to do,' says Dudman. Indeed, writing fiction can be so enjoyable that some people do it as a hobby, with little or no thought of financial reward.
In good time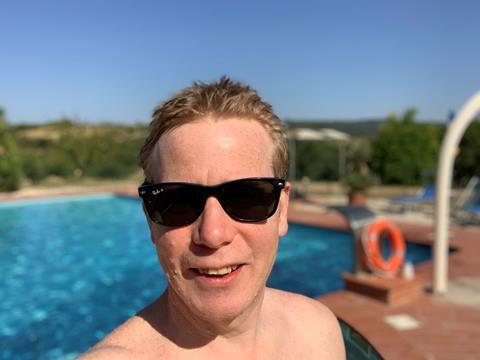 Richard Grant has a doctorate in biochemistry from the University of Oxford, UK, and works at a medical communications agency by day. But by night he writes fiction, including poetry and short stories, and he is currently working on a couple of novels. Some of his short stories have appeared as part of the Futures series in Nature and on LabLit.com, a website dedicated to highlighting realistic portrayals of scientists and scientific research in fiction.
For Grant, the trick is finding sufficient spare time to write fiction, in among work and family life. 'It's really important when writing to carve out that time when you don't have interruptions,' he says. Wang tries to set aside specific days for writing when she's not teaching, while Dudman and Asaro tend to write in the mornings and then fit the rest of their life into the afternoons and evenings.
Nevertheless, even when an author has set aside the time to write it can be difficult to stay focused; while writing fiction can be enjoyable, it can also be a hard slog at times. 'One of the most difficult things about being writer is not letting yourself get diverted into different things, but just concentrating on getting the words out day after day after day,' says Dudman.
This isn't just important for producing the stories, but also for improving as a writer, as is reading as much as possible. 'Read, read, read and write, write, write,' says Dudman. This doesn't even need to be fiction writing. Grant thinks writing for the medical communications agency has improved his fiction writing, even though they're in very different styles. 'My craft now is much better than it was when I started,' he says.
Another option is to take a creative writing course, as both Wang and Dudman recommend, which has the added advantage that you'll receive feedback on your writing. Dudman also suggests joining local writing groups and entering writing competitions, which, as happened with her, could lead to being published.
There are some very rich characters in labs
Publication traditionally involves finding a literary agent who will submit your novel to a publisher, but both agents and publishers reject far more novels than they accept. With the rise of ebooks, however, self-publishing has become a much more viable option, although Asaro recommends trying the traditional route first because of the advantages a publisher can offer in terms of publicity and getting a novel into bookshops.
This all means that the most important trait for a budding author, after a talent for writing, is perseverance. 'Don't be afraid of the rejection,' says Asaro. But chemists have an advantage here, says Dudman, because this is the same kind of perseverance required for conducting chemical experiments.
Another advantage that chemists have is their colleagues. 'As inspiration for characters,' explains Grant. 'There are some very rich characters in labs.'