This year's Meet the Universities event promises to bring together record numbers of prospective students and university staff, explains Robert Bowles, RSC ChemNet executive
This year's Meet the Universities event promises to bring together record numbers of prospective students and university staff, explains Robert Bowles, RSC ChemNet executive
With the possibility of UK tuition fees going beyond the current cap of ?3145 per year in 2013, choosing the right course and university has never been more important. It is not an easy choice to make but those thinking of opting for a chemical science degree can be helped greatly by attending this year's ChemNet Meet the Universities (MTU) event in London.
ChemNet was set up by the RSC in 2006 to help post-16 chemistry students to broaden their horizons and encourage them to consider careers in the chemical sciences. Now in its third year, MTU continues to grow and attract more students and universities. The event offers universities an opportunity to showcase their courses to prospective students in a relaxed environment. By attending MTU, students can significantly reduce the amount of time they need to spend hunting through websites and league tables for information about chemical science degrees and the universities that award them.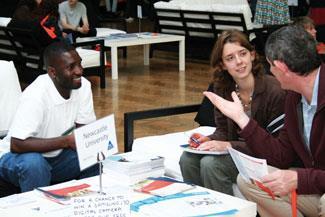 With students having to pay for their degree courses out of their own pockets (or those of their parents) there is a real risk of them making decisions based on perceptions of universities and degrees in terms of 'quality' and 'value for money', but of course degree choice shouldn't simply be a financial decision about future employability and earning potential. Students should take the time to consider which course matches their future ambitions for their education and employment and find the degree and university most relevant to their needs and expectations. There are also the more emotional ingredients in the decision-making process: the locale of the university, what the facilities are like, and what contribution the university experience will make to a student's personal and intellectual growth. While many of these factors can only be experienced by visiting universities in person, MTU can play a major role in the overall decision-making process.
There really is no substitute for face-to-face conversations between university staff and prospective students and MTU provides a perfect opportunity and environment for these meetings. With comfy sofas and a wide range of refreshments, MTU provides a very informal atmosphere and allows ample time for discussions to take place. Students can question the university representatives in depth while the universities get the opportunity to promote their courses and facilities directly to highly motivated chemistry students. Universities often send their admissions staff to the event as they are ideally placed to offer expert information. In addition to talking to the university staff, students have the chance to prepare for the interview and admissions process by attending seminars. They can also have a taste of the undergraduate experience by attending a first year undergraduate lecture.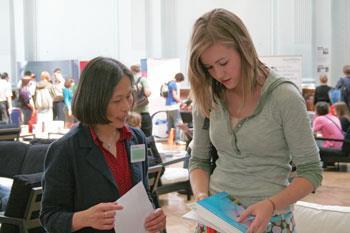 Stuart Conway from the chemistry department at the University of Oxford explains why the university will exhibit at MTU in 2009: 'From a student perspective this event is an ideal opportunity to meet staff from most major universities in one day. This allows them to compare directly the courses and experiences on offer in a relaxed and friendly environment. The University of Oxford is very excited about attending MTU as this event gives us an opportunity to meet a wide range of enthusiastic students. We will be able to answer questions about our course and university on a one-to-one basis and pass on information about open days and visits to Oxford.'
Meet the Universities will be held at The Lawrence Hall, Royal Horticultural Halls, London, on Saturday 4 July 2009 from 10am to 3.30pm. Admission to MTU is free for RSC ChemNet Members, accompanying parents and teachers, and ?10 for non-members. Students, parents and teachers who wish to attend can book online at MTU website.