Matt Brown looks at the exciting opportunities in science broadcasting
Matt Brown looks at the exciting opportunities in science broadcasting
We live in an increasingly multimedia-obsessed world. The internet has made it easy for anyone to record and distribute a short movie, animation or podcast. At the same time, professionally produced media is in growing demand. Could this new landscape of communication offer opportunities for scientists with the right talents? And how do you go about making a name for yourself in this highly competitive industry?
Alom Shaha is a film-maker, science teacher and communicator working in London. He's an advocate of jumping in at the deep end. 'Just get making films,' he says. 'Start off with short ones. If you really don't know what you're doing make a short film about making toast. If you can make that into a watchable film, you're on your way.'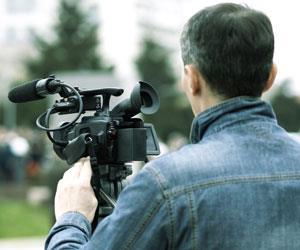 Shaha has worked on a number of scientific TV shows for the BBC, including What the Victorians did for us and Horizon, as well as shooting sequences for independent TV companies. Most recently, he made a well-received documentary called Why is science important?, which asked leading scientists to answer just this question. Although Shaha is an all-rounder, having written, produced and filmed, he places strongest emphasis on narrative.
'I think writing is the most important skill: being able to tell a story. Being able to operate a camera, record sound, and edit are all important but can be done by other people if you have the idea and know how to produce and direct,' he says.
Another visual outlet is to produce scientific animations, now ubiquitous throughout the media. Much of this work is performed by independent production companies, many of them small start-ups of one or two people.
Jon Heras has carved out a successful career for himself in this area. In what he describes as 'slightly comic beginnings,' he started making short films as an undergraduate at Cambridge and while doing a PhD in chemical engineering. 'I began making short clips to accompany my presentations,' he recalls. 'If you go to a conference with an animation it helps you stand out. It's an icebreaker.'
During the final year of his PhD, Heras began to think about pursuing his hobby seriously after receiving a couple of freelance commissions on the strength of his portfolio. Despite no formal training in either animation or business skills, he was able to incorporate as a company last April. Equinox Graphics has since produced highly polished scientific animations and illustrations for the likes of the BBC, the European Space Agency and the Science Museum.
'What sets us apart is our science background,' he says. 'We can talk to scientists and engineers with ease. There are many production companies out there, and no shortage of work, but they can't find people with the right skills. It seems to be a growth area. I've taken on more work, an employee and an office in a recession.' He also points out that the skills learned producing scientific animations are easily transferable to other genres, meaning that this career choice need not be so niche as it might seem.
Broadcast masters
Another route into the industry is to take a Masters degree. Kelly Neaves, a former biochemistry student and freelance photographer, is taking a qualification in science media production at Imperial College London.
'I really enjoyed working as a photographer but soon realised that if I continued in such a career I would miss the excitement and fascination I have with science, so I wanted to find a way of combining the two disciplines,' she says.
While studying for her PhD, Neaves got involved with her university science magazine which gave her the opportunity to make short documentary films. With others, she secured funding from the Institute of Physics to make a documentary about the Large Hadron Collider.
Spurred on by her success, she's now enrolled on the Masters course at Imperial College London, UK. While many institutions offer general science communication courses, this is the only full-time course to concentrate specifically on broadcast media. Students follow modules in film theory, technique and philosophy of science, before tackling practical projects such as producing a short film or radio programme. Neaves received funding to support her studies from the Wellcome Trust, which provides a grant of ?18,000 plus course fees for two 18-month studentships. The funding also allows the beneficiary to spend six months working for production companies - a vital foot in the door for any would-be film maker.
'Making accurate and relevant science films that can appeal to many people is not an easy task,' she says. 'I don't think it is the easiest career move to make and it involves a bit of a thick skin. But there are people in the industry that recognise the importance of having people with scientific backgrounds working on such films.'
There are clearly many roles for scientists in broadcast and film media, and opportunities will only grow. Only last month, a new UK online science channel called Newton HD was announced. But could the industry ever be the major employer that, for example, print and web publishing have become? 'Probably,' thinks Shaha, 'but probably not in any way we can imagine.'
Matt Brown is a freelance writer based in London, UK