Alan Sugar's latest apprentice is setting up a recruitment agency specialising in sectors that make a difference. Emma Davies finds out more
Hyper Recruitment Solutions (HRS), a new UK-based science recruitment company, is busy spreading the word amongst young people that a science career is the one to follow.
At the helm is Ricky Martin, 2012 winner of UK TV series The Apprentice. Martin persuaded Alan Sugar to invest in his idea of a scientific recruitment agency, winning him over with a simple idea that played to Martin's strengths. 'The key thing is to try to promote and support science,' says Martin. 'We would like to pass on the message about science careers to a much wider audience.' It is Martin's hope that HRS will attract 'some of the very bright young generation' and to 'bring some of those minds into the market and retain them'.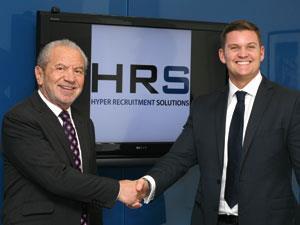 Martin studied biochemistry at Cardiff University, UK, before working in science recruitment and talks often of his passion for science. 'People say I'm not a typical scientist but I am,' he insists. 'I do have that mindset and I am very interested in science.'
His passion convinced Sugar to become a 50:50 partner in HRS with an investment of £250,000. 'I put a business plan together which tailors to my experience. That's what Lord Sugar liked about what I was proposing,' says Martin. 'He's there for any questions that I have and I work out of the same office as him. We have each other's attention as often as we need,' he adds.
HRS recently held its launch event at the RSC's Chemistry Centre in London and Martin is now fully immersed in the daunting task of building his business, starting with recruiting his own staff. 'Getting employees who share my vision for HRS into the company is a key thing for me, which means that my recruitment process has been pretty rigorous to make sure that we get the right people on board,' says Martin. 'Any recruitment business is only as strong as its weakest consultant,' he adds. He places high importance on training for HRS staff, putting them through qualifications in recruitment practice. HRS staff are currently constructing the company database and building the company's online presence.
Spreading the word
Planning for the future, Martin places particular emphasis on encouraging younger generations and has begun to visit universities and colleges to talk about careers in science. '[Science is] not all lab coats and goggles. There are other options. I think I'm a very good example of that – I didn't go into the lab despite doing a science degree. I'm supporting the industry in a different capacity,' he says. 'Promoting and supporting science is part of the business plan … we are trying to inform students and graduates about the broader application of science and the breadth of roles it could offer.'
So far, HRS has received positive feedback from clients, who are refreshed by the 'commercial way' in which HRS talks about science.
Making a difference
The plan is for HRS to be expert in 'key fields' such as quality assurance and R&D, says Martin, with a focus on applied science. He has selected several industries to work with, including pharmaceuticals, medical devices and consumer goods. And within these industries the plan is initially to specialise in a few particular skill sets.
'Our vision is to provide a recruitment consultancy that will assist in improvement in quality of life for all. That's a way of saying that we will only support companies that have an impact on the end-user,' says Martin. This definition includes the pharma and biotechnology industries and consumer-goods companies 'that make a product in an ethical way … we are working with companies that actually make a difference.'
During his time on The Apprentice programme, much was made of Martin's former second career as a professional wrestler, while newspaper coverage delighted in his immortal words: 'I am the reflection of perfection'. But right now, fulfilling his plans for HRS leaves no time for sparring – physical or verbal. 'I have gone from being an employee to a role where I am constantly on my Blackberry, from five in the morning until midnight,' he says. 'I'm trying to catch up as much as I can with my wife. We're newly-wed and we're trying to make time for each other.'