Company will provide authorities with data on perfluorinated compound emissions into drinking water
In a long-running dispute over emissions of polyfluorinated compounds into a US river that is the source of local drinking water, DuPont spin-off Chemours and the North Carolina Department of Environmental Quality (NCDEQ) have reached an agreement to cooperate.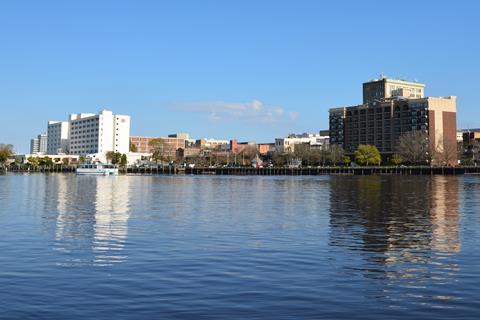 The case revolves around release of byproducts from production of fluoropolymers for applications including non-stick coatings and electronics. The plant at Fayetteville had been releasing trace amounts of perfluoro(2-methyl-3-oxahexanoic) acid, referred to as GenX, into the Cape Fear River, as well as sulfonated perfluoro compounds that are byproducts of manufacturing Nafion ion-conducting membrane materials.
GenX is not specifically regulated in the US, so there are no official limits for exposure or emissions into the environment, and limited health information is available for the compound. Chemours had said that its emissions were well below health screening levels, and have not impacted drinking water safety.
The state government had set a preliminary health risk threshold of 71,000 parts per trillion (ppt) in drinking water. However, in July the state's Department of Health and Human Services drastically reduced this threshold to 140ppt. The reassessment was based on various factors, including taking account of other potential exposure sources.
Under pressure from state and local officials, Chemours stopped discharging GenX into public water sources in June. The company collected its contaminated wastewater and incinerated the discharge offsite. Levels of GenX in the Cape Fear River, as measured by the NCDEQ, fell from about 30,000ppt at the Chemours outfall in mid-June to zero by late July. Chemours said in court on 8 September that it had ceased discharging the Nafion byproducts as well.
Water monitoring continues
NCDEQ spokesman Jamie Kritzer tells Chemistry World that the state will continue to conduct water quality monitoring at the outfall from the Chemours facility and further downstream 'for the foreseeable future'.
Under an order signed by a North Carolina judge on 8 September, Chemours has now agreed to provide the NCDEQ with information on GenX and related compounds and processes, including toxicity studies and its own internal water sampling data. The company will also have to grant the NCDEQ and the US Environmental Protection Agency (EPA) access to material it had classified as confidential business information.
'The saga continues, but there is at least a temporary truce between the [NCDEQ] and the corporation,' states Joel Mintz, an environmental law professor at Nova Southeastern University in Florida. He says many issues remain unresolved, including the possibility of enforcement action against Chemours, and potential indictment of the company or individual employees. A federal investigation into the matter is underway.
In addition, Mintz says there could be personal injury lawsuits if people can prove that they were harmed by exposure to these chemicals.
DuPont and Chemours are facing other legal challenges relating to perfluorinated products. In February, the companies agreed to pay more than $670 million (£540 million) to settle 3500 personal injury lawsuits related to historical releases of perfluoro-octanoic acid from a Parkersburg, West Virginia plant.

Rebecca became the US Correspondent for Chemistry World in September 2014, based out of Washington, DC, after writing for the magazine on a freelance basis since 2007.
View full profile