Albert Stwertka
Oxford University Press
2012 | 256pp | £12.99 (PB)
ISBN 9780199832521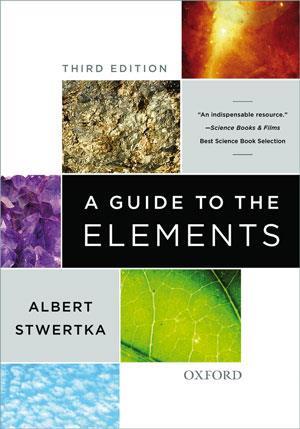 The periodic table is a brilliant concept and part of the lingua franca of chemistry. It has survived the test of time, now accommodating twice as many elements as when it was first proposed.
The third edition of this book starts with an introduction to the periodic table and to atomic structure, before launching itself into the individual elements. Each element, including all the transuranium elements, gets at least one page to itself.
A variety of pictures is used to illustrate the book, which is up to date on the new elements 113–18 and also fits in graphene. The concluding section of the book follows the transuranium elements with a short section about the value of continued search for new elements, including the idea of the island of stability.
The sheer diversity of chemical behaviour of the elements is something which never ceases to amaze and there are lots of little snippets of information. For example, the US $0.05 coin, known as a nickel, actually contains much more copper than nickel, or the first (and very unstable) argon compound to be identified, HArF. One improvement that could be introduced in the next edition would be to provide more in the way of useful statistics, as there is plenty of space in the margin for information such as the melting and boiling points. Also, some of the entries are a little short.
Any reader will glean much from this book. Some ill-informed critics claim that chemistry is a worked-out discipline: this book reminds readers that chemistry is alive and vital.
Purchase A guide to the elements (3rd edition) from Amazon.co.uk. RSC members can obtain this book direct from the publishers for a 25% discount on the RRP. See the RSC member benefits page for details.