The soft matter expert on curiosity, collaborators and creativity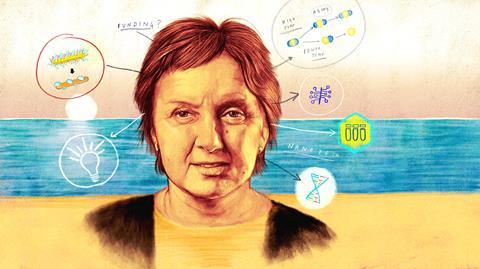 Eugenia Kumacheva is a professor of chemistry at the University of Toronto and a Canada Research Chair in advanced functional materials. Her research focuses on soft matter, with applications in wound healing and cancer therapies. She was recently appointed an Officer in the Order of Canada in recognition of her contributions to science.
When I was about 15-16 years old I organised a party for high school students and the focus was on chemistry. This was the idea of our chemistry teacher. I had to read a lot about the history of chemistry and prepare quizzes and demonstrations. This was quite different than what we learned in class and I realised that I wanted to know more. I found it amazing how very important discoveries were made by accident or from really crazy ideas. Now I am always coming up with these crazy ideas.
In high school I was seriously considering a career in literature or journalism. My poems were published and I was winning local competitions. Now my friends from high school ask me 'Eugenia, where's your poetry?' And I say my poetry is in my research proposals, in my applications for funding.
After university I spent two and a half years working in industry. This was a very useful experience, but I realised that I really want to generate my own ideas, rather than go with the needs of the company. It gives me enormous pleasure to come up with the idea and subsequently, be able to prove that it works.
We have to be optimistic and believe in what we are doing. We are currently working on a project for personalised medicine for the treatment of cancer patients. I lost my best friend to cancer after three years of struggle and several courses of chemotherapy. Even if we achieve 10% of what we are trying to do, it will be a huge step forward toward personalised medicine. I do hope to deliver this.
Balancing research in different fields is my signature. The biggest challenge for me is to decide which areas of research I should abandon. In the field of soft matter, there are many different directions and every time, I have to slap my hands to stop moving to a new field.
We have a very special atmosphere in the group. It partly comes from the eclectic combination of projects. I really want to have a creative atmosphere, so that students and postdocs have scientific curiosity and they're independent in generating new ideas. They should be independent thinkers and shouldn't expect everything coming from me.
I had a student who was hired by a company to do research in one field, and by the time that he graduated, he was assigned to be doing absolutely different research. He wrote to me and said 'Eugenia, after being in your group, I'm not afraid of anything'. That was a very big compliment for me.
Professional life becomes a huge part of personal life
I have been privileged to establish several very long lasting collaborations. Some of them transformed into personal friendships and now I have real friends that I got from my collaborations. This is a really gratifying experience.
Over the course of my career I developed a set of criteria for choosing collaborators because in the beginning it was a bit rough. Number one is to have absolute trust and clarity in relations. There are many collaborations where people transfer the results from one group to the other. My student can work very hard for a year just to resolve a small technical problem, but without a full commitment beforehand, the collaborator might then bring the project to another group. And then this year will be kind of lost for my student.
I don't believe in artificial collaborations, where people get together just to get funding. You need complimentary expertise, where people really need each other's help and contributions. Very importantly, people have to have the same level of excitement about the collaborative project, and a similar pace of research. If for one person this is project number one, and for the other it is a side project, this will not work.
A good scientist never stops thinking about the results of the research or encountered problems. Professional life becomes a huge part of personal life. Your mind always stays with your science.
When people start talking about how to attract women in science I always ask, 'What exactly do you propose to do?' How much money are you willing to invest in these programmes to help young mothers? For example, you could allocate money for a babysitter so that they can spend a few hours a month writing proposals and not while keeping a kid on their lap. I'm not agreeing to join any activity unless I hear what exactly will be done. Enough organising new committees – do something practical.
My favourite place to work is on the beach. I was born in a city on the Black Sea, so it brings recollections from my childhood. This makes me very productive and happy.
My husband and I started Latin American dancing about eight years ago and we love it. Even now, in these very challenging times we still have dance lessons. The cha-cha, salsa, we dance West Coast swing too, and my favourite, bachata.