War, peace and the power of optimism
In situ aims to meet the people behind the most exciting chemistry in the world. Interviewees are selected due to their prominence within the international scientific community and are asked to talk about their interests outside the lab.
John Goodenough is a professor of mechanical engineering and materials science at the University of Texas, Austin, US. He is the inventor of the lithium–ion battery and random access memory (RAM).
My greatest interest outside science is in Christianity, but I also enjoy travelling and meeting people from all over the world – and walking in the mountains. I started out walking close to home when I was a kid in New England, then in the Jotenheim Mountains of Norway when Hitler moved into Poland in 1939, and then down in the Smokey Mountains of Tennessee just before I went into the army for world war two. I've walked in some of the Rocky Mountains in the US but also in the Alps in France and Austria, and in the Sudeten Mountains of the Czech Republic.
I'm 95. I'm not able to travel any more. My wife and I liked travelling very much, so we had a nice time together. We always enjoyed going over to France when I was at Oxford for 10 years. She had many friends there. When you're a scientist and you're asked to give talks to all over, you get to travel quite a bit. I've had many trips to India, Australia, South Africa, North Africa and Asia. My favourite places? I like Italy and Spain very much.
I enjoy working outdoors. I do yard work. For 65 years, I had a farm in New Hampshire and I maintained it. I didn't raise anything, it was just trees and we got a lot to clear. There was 100 acres of land to take care of.
I wanted to be an explorer, and science is a pretty good place to go exploring
I like music, but I'm not very gifted musically. I like Church music and Russian voices. I used to go to concerts, but I'm afraid that I've been too busy, so I just haven't had the chance to go to many concerts. I don't pay much attention to the movies and I don't pay much attention to the television.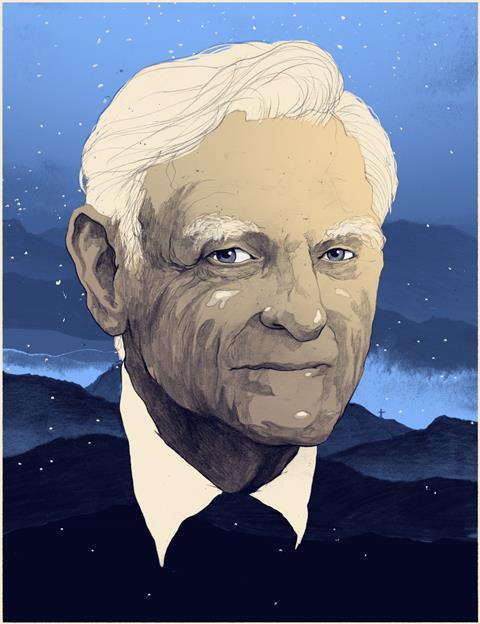 I was dyslexic as a young man and so I never got to be a very good reader. That's why I studied languages and mathematics, because I had to cover up the fact that I couldn't read well enough to do history. But I managed to get to take philosophy courses rather than English courses. My wife was a historian, so I enjoyed discussing with her the history of Western civilization.
I didn't know what I wanted to do until quite late. As a child, I thought that I wanted to be an explorer, and science is a pretty good place to go exploring.
When I got to Yale I had to work my way through university. I had no money from home. I prepared myself to play [American] football at Yale but the coach came up to me on the third day and said, 'I'm sorry John, but I understand that you're working 21 hours a week and you're on a scholarship and you want to play football, but you can't do all three. You have to decide.' So I dropped football.
Just before I went into the army, I was reading Whitehead's Science and the modern world. I had a sense of calling that I should be studying physics if I ever got back. I was then given the opportunity to study physics at the University of Chicago on my return to the US.
In the army, I was a meteorologist so I sent planes across the Atlantic Ocean. I never had to shoot anybody and nobody shot at me, so it was as easy a war as it could be.
I'm just very happy that I got into problems that were interesting to work on and solve
When I finished my PhD in physics, I knew I wasn't going to be a card-carrying theoretical physicist. I didn't accept a job as a professor of physics, I took a job in an engineering laboratory. I was given a problem that the magneticians of the day thought would be impossible to do, but we managed to deliver the magnetic element of the first RAM memory of the digital computer within four years. And that brought me into the whole area of transition metal oxides and as a physicist I was interested in their magnetism and electronic transport. I'm happy that I was given the opportunity to head a ceramics laboratory after developing the RAM memory; it gave me the opportunity to explore physics questions with chemists about the electronic properties of transition-metal oxides.
I don't have any specific advice; except you can't plan a life. You have to make the right choices according to the opportunities you have.
I think like a pessimist and I work like an optimist
It takes you a while to 'unthink' things you thought you knew. For example, when we were doing battery electrochemistry we thought that you were never going to have dendrites when you try to plate alkali metals. Well, it took me a while to understand that of course that's nonsense: plating from liquids when they are immiscible you're going to have dendrites. But even in this case we have learned to plate dendrite-free alkali metals from a liquid electrolyte. If you wet a surface, dendrites go away. So that's what it's all about: unmasking the prejudices of a discipline.
What I'm working on at the moment is to get a rechargeable battery that will power an electric car at a cost and safety that will compete in convenience and performance with the internal combustion engine, and I think we're getting there. Two years ago, I wouldn't have been so optimistic. As far as the next 50 to 100 years is concerned, I think like a pessimist and I work like an optimist.