The Canadian biomedical engineer on failure, politics and celebrity science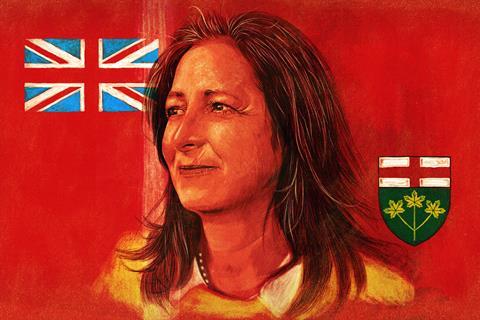 Molly Shoichet is the Michael E Charles Professor in Chemical Engineering at the University of Toronto, specialising in the study of polymers for drug delivery and tissue regeneration. She was the first Chief Scientist of Ontario and last year was awarded the Gerhard Herzberg Canada Gold Medal for Science and Engineering by the Natural Sciences and Engineering Research Council of Canada. She was speaking to Bárbara Pinho
All through my chemistry degree at MIT, I thought I would go to medical school. In fact, in my senior year at MIT, I applied to medical school. But then, because I got interested in polymers, I applied to a couple of different programs as well. I had actually gotten into medical school, but ended up pursuing a PhD in polymer science and engineering from the University of Massachusetts, Amherst.
If we're really going to shape the future in medicine, we can't do that just in the academic lab. This is a big challenge for science: taking the knowledge we've gained in our own research, the advances we've made, and translating those into products. I'm very motivated to partner with companies – I've started some companies myself – and raise funds for those within the venture community to take those innovations out of the lab and turn them into products that will make a difference in people's lives.
What most people don't realise is that we fail every single day. Our experiments don't work, our papers get rejected, our grants get rejected. And so, in order to succeed in research, you have to have a thick skin, you can't take things personally, and you have to have the strength to go back at it and not give up.
The questions we are trying to answer are enormously complex, so we recognise that we cannot answer them all by ourselves. We also don't want to. Our lab has undergraduates, master's and PhD students, postdoctoral fellows and technicians, and a couple of administrative people, so it's a big group. We recognise the strength of different perspectives and different ideas, so the atmosphere in the lab is really one of collaboration and partnership. In fact, that's our lab slogan: solving important problems together.
I think everybody's struggling with isolation during the pandemic. Experiments are still failing, but it gets harder when you're overwhelmed, or you're feeling somewhat isolated and not as supported as you might have been. I've tried to have an open door at my lab by letting my team know that they're important and that I will do what I can to support them.
To succeed in research you have to have a thick skin
Through knowledge, we can enhance people's understanding of science and help them to have informed opinions. I started Research2Reality, a social media initiative, in 2015 to engage people in the world of research. We really wanted to pique the public's interest because it is this research that is shaping our future. We've created a series of videos where we've interviewed about 250 researchers from different fields; technology, medicine, social sciences, business and politics. The only thing we're selling is knowledge, we're not even taking points of view. This was designed so that people could make informed decisions and ideally be curious enough to want to learn more.
Misinformation is probably the biggest problem in science. There's a lot of information online, so it becomes very confusing for somebody without a science background to grasp it all. How do they know what the truth is, so to speak? Many people don't trust vaccines, which is strange because we've gotten rid of so many diseases thanks to them. I think the biggest challenge to the advancement of society is this lack of understanding and maybe the fear of advances in science.
There's a lot of what I call celebrity science. That's when you have a celebrity who takes their celebrity status and uses it to advocate for their points of view. It's not science, it's not rooted in evidence, it's just rooted in opinions. We see a lot of that these days.
The cool thing about policies is that they turn into laws that guide our everyday life. But they're not all rooted in evidence and science. I served as the chief scientist for the province of Ontario, which was a great opportunity to bring evidence-based decision making into government. I also served our federal government for six years on a Science Technology and Innovation Council to advise the prime minister of Canada and the minister of industry. We provided advice that would enhance the environment for greater innovation, technology and science in Canada.
My great passion is science. That's the root of everything we do. We would have nothing to translate and commercialise if we didn't have great advances in science. We would have nothing to communicate. We could not inform policy. Science is the root, the trunk of the tree; policy and science communication are the branches.