Marc De Graef and Michael E McHenry
Cambridge University Press
2012 | 739pp | £45
ISBN 9781107005877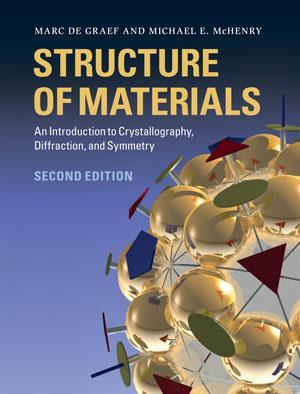 Most of the clues as to the content of this book are in the title, apart from the fact that it really is a very comprehensive introductory text!
At first glance it could be considered to be a reference book; however, on closer inspection, it has an approach very much suited to learning. The authors are to be congratulated for putting together a book that manages both at the same time, as well as having a refreshing feel.
This book is aimed at undergraduates meeting the topic of materials structure for the first time. Not only does it provide an easy introduction to the field, but it builds knowledge well and will also serve until more advanced texts would be required, for example in applied, practical research at PhD level. With a materials science background, the authors have aimed at this audience. However, a quick reference to a chemistry course shows the coverage of the book to be equally suited to inorganic materials chemistry modules being taught – albeit rather more detailed in some respects.
The structure of the book, as a whole and the individual chapters, is clear and laid out in a way that strongly supports learning. Each chapter begins with a short statement on learning expectations and is followed by logical presentation of concepts supported by suitably chosen examples and worked problems. A concise summary and some problems at the end reinforce the important points.
A unique aspect of this book is that each chapter devotes a section to historical notes. These are not only excellent for adding interest and context, but, helpfully, by confining historic information to these sections the messages in the main text are not obscured.
There is, however, one aspect of this book that I am undecided on. The final chapter on Molecular solids and biological materials is clearly outside the realm of traditional materials chemistry. On one hand this could be viewed as an add-on that muddies the water, but on the other it could be seen as an eye-opener indicating that many of the materials science techniques presented are transferable to other areas. I leave it to you to decide.
Purchase Structure of materials from Amazon.co.uk