Mark Miodownik
Penguin
2013 | 264pp | £18.99
ISBN 9780670920549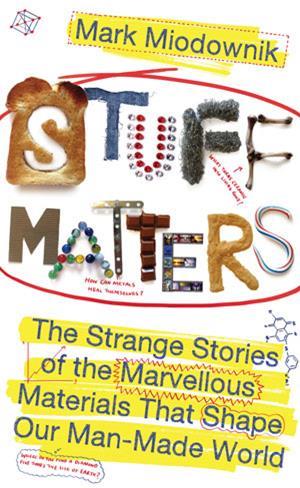 Inspiration shouldn't be painful. It certainly shouldn't require hospital treatment. But Mark Miodownik's interest in materials science was kindled in exactly that way, after being attacked by a razor-wielding mugger in a train station.
Most people would feel sorry for themselves and angry at the situation, perhaps wary of future train travel. Not so Miodownik. His response was to wonder how that razor blade – made from the very same metal as his blunt penknife – was able to slice through five layers of clothing and into Miodownik's skin. This fascination with materials sustained him through a PhD in jet engine alloys and into life as a scientist, engineer and now an author of popular science books.
From a very engaging start, (popular science books rarely start with a mugging), Stuff matters goes on to tell the extraordinary stories behind ordinary materials, taking its cue from objects seen in a photograph of Miodownik drinking tea on his roof. We learn how the properties of concrete make it ideal for building the Shard; hear how glass and, later, Pyrex enhanced both chemistry and beer making; there's even a screenplay about the history of celluloid.
Stuff matters is quite a personal book, containing more insights into Miodownik's life than crystal structures. Trusted, the chapter on paper, contains a brief summary of paper's physical and chemical structure, illustrated by a number of examples, including travel tickets, love letters and loo roll.
This personal, contextual approach means this is not a heavyweight science book – those with even a lay interest in materials science will find little new by way of facts. But what it lacks in depth, it makes up in breadth, from traditional steel, glass and concrete to exotic graphene and aerogels.
Tackling a wide range of subjects and focusing on the personal, Stuff matters makes an engaging and inspiring read, and would be ideal for encouraging young, questioning minds. After all, as Miodownik concludes: 'Materials are a reflection of who we are, a multi-scale expression of our human needs and desires.'
Purchase Stuff matters from Amazon.co.uk