Sarah Ridley
Franklin Watts
2014 | 24pp | £11.99
ISBN 9781445130613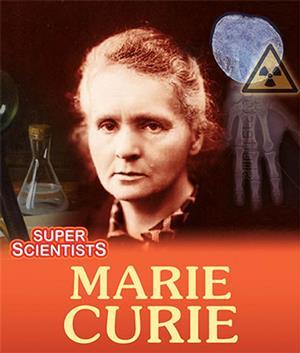 Part of a series of biographies inteded for primary school children, Super scientists gives a comprehensive introduction to Marie Curie's life.
Curie's legacy is substantial: she discovered radium and polonium, and is still the only recipient of Nobel prizes in both chemistry and physics.
This book offers a clear map of Curie's life, both professional and personal, including a timeline that highlights key facts and discoveries. The book is well illustrated, using archive photos and custom images to accompany the text.
To make the text more suitable for young readers, the author includes clear explanations of Curie's work and introduces new terms with accessible descriptions, which are backed up with a glossary of terms at the end of the book.
The social context included adds a wider view of Curie's world, explaining why there were so many barriers to her success and how this makes her achievements even more extraordinary.
What might cause confusion are some extra points included in the timeline, which are not referred to in the main text. However, these are few and do not detract from the clarity of the book.
The book would make the perfect Christmas gift for a budding scientist or historian.
Purchase Super scientists: Marie Curie from Amazon.co.uk