Bunpei Yorifuji
No Starch Press
2012 | 205pp | £14.49 (HB)
ISBN 9781593274238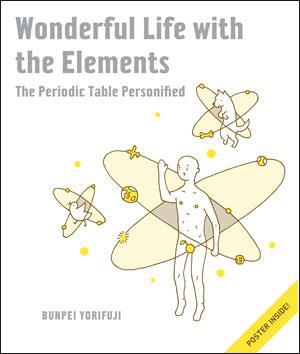 Dust down the periodic table, introduce some quirky Japanese illustrations and you'll discover a new, fascinating way to learn about the elements all over again.
The elements underpin science as a whole, they are literally found all around us, and as many chemistry students discover they are usually bound to the periodic table, but in a dull way. In this interpretation, Japanese artist Bunpei Yorifuji has cleverly personified each element, where the hair, clothes, weight and even length of beard will tell you something about its properties and characteristics.
Old elements have long beards, young elements are babies. If it's overweight it's a heavy metal, and if it's wearing a robotic suit it means it's manmade. My personal favourite personification is the hair – from the nitrogen family that 'hates normal' and sports a mohawk, through to the cool noble gases that have afros, Yorifuji captured my full attention from the start.
Once you understand the personifications it soon becomes second nature interpreting the elements' properties from just looking at their cartoon forms. Each element also has snippets of information on their common uses (illustrated, of course!) and useful things like melting/boiling points and densities too.
I must say I was slightly disappointed to learn that some of the lanthanides and actinides had less than a page to express themselves. It's particularly surprising as some of them play crucial roles in medicine, smart technologies and nuclear power today. Perhaps room was needed to fit in How to eat the elements and Element crisis, which were good chapters at bringing the reader back down to earth to discuss important matters like the excessive intake of elements in the diet. It was also sobering to read about some elements being endangered due to overuse and explaining that they can't simply be created.
I'm not sure what Dmitri Mendeleev would have made to this adaptation, but for me Yorifuji has created a light-hearted, humorous book that's both engaging and educational at the same time. This would make an ideal gift for anyone with an interest in science, who has an inner geek wanting to rediscover the elements all over again, but in a fun way.
Purchase Wonderful life with the elements from Amazon.co.uk