Eva Marguí and René Van Grieken
Momentum Press
2013 | 143pp | £141.99
ISBN 9781606503911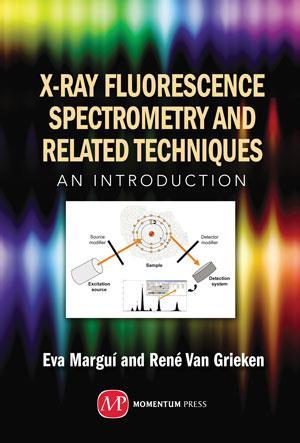 This book is a tutorial providing an up to date description of the fundamentals of x-ray fluorescence (XRF) techniques including an overview of instrumentation, sample preparation procedures and applications. Readers new to XRF analysis will benefit from the straightforward writing style, and more established x-ray analysts will gain from the description of related techniques.
The authors describe the basic components of x-ray spectrometers, ranging from hand-held systems using radioisotopes or mini x-ray tubes, to bench top and floor-mounted configurations, to those using synchrotron radiation.
The characteristics of detector types include comparisons of efficiency, resolution, count rate capability and cooling media. Detector artefacts including escape and sum peaks are described along with information on filters, secondary targets and focusing optics.
The chapter on qualitative and quantitative analysis provides a valuable overview of matrix effects and methods for correction and compensation that should not challenge the reader's mathematical prowess. Options for sample preparation procedures are introduced with examples for applications in biological, environmental and industrial fields. Layouts for wavelength dispersive and energy dispersive XRF systems are described along with applications and case studies.
The increasing use of total reflection XRF is described with its crucial sample preparation requirements to support analysis of liquids and surfaces. Microbeam configurations are described that now support both two- and three-dimensional elemental mapping as well as information on spatial elemental distribution down to the nanometre scale. The information on synchrotron systems lists some facilities available worldwide plus more detailed information on the beamlines available at the European Synchrotron Radiation Facility in France.
This invaluable book also offers a partial list of manufacturers, a glossary of abbreviations and acronyms, references plus a bibliography of books and useful journals to tempt the reader to further explore the wonderful world of XRF analysis.
Purchase X-ray fluorescence spectrometry and related techniques: an introduction from Amazon.co.uk