Singapore has succeeded in developing itself as a hub for biomedical research and manufacturing. Mark Whitfield explores the sector
Singapore has succeeded in developing itself as a hub for biomedical research and manufacturing. Mark Whitfield explores the sector
Singapore has developed into a centre of biomedical excellence over the past five years. It has succeeded in attracting organisations to invest by offering tax breaks and grants for research and manufacturing. It has also put considerable effort into attracting the best people, from both home and abroad, into the biomedical sciences arena.
A cornerstone of Singapore's success has been designing an environment with the aim of bringing success to the industries that operate there. A clear indication of how seriously the country takes this aim is the creation of Biopolis, a purpose-built biomedical research hub (see box). This is a unique establishment in the country because it co-locates government and commercial research in one centre. This promotes better communication between organisations, exchange of ideas and the flow of people between government and industry.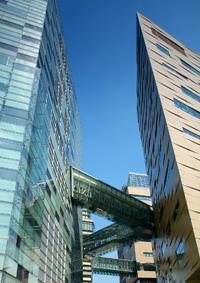 Singapore's very strong legal framework protecting intellectual property rights is another attraction for pharmaceutical companies. The country also has a relatively liberal attitude to stem cell research, which has already attracted significant investment from companies operating in this specialist field. One such company is ES Cell International, headed by Alan Colman, one of the creators of the cloned sheep, Dolly.
The country is also very cosmopolitan - over 20 per cent of its population comes from overseas - creating an open, welcoming society that is attractive to multinational companies.
The Singapore Economic Development Board (EDB) describes Singapore's tax structure as 'pro-enterprise'. It offers financial incentives to pharmaceutical companies wanting to carry out their research or manufacturing in Singapore. In manufacturing, where companies are establishing profit centres, there is the pioneer incentive that awards full corporation tax exemption on qualifying profits for a set period of up to 15 years.
EDB also provides research grants to companies of 30-50 per cent of R&D expenditure over a five year period. There are also tax incentives to encourage companies to channel more funds into R&D work in Singapore.
The development of Singapore's biomedical sector has been driven by Philip Yeo, co-chairman of the EDB and chair of the Agency for Science, Technology and Research (A*Star), Singapore's principal research foundation. Yeo was previously involved in developing the country's petrochemical and semiconductors and electronics industries. He was also the driving force behind Biopolis' development.
'We believe that the research scene in Singapore is thriving,' says Beh Swan Gin, director of EDB's biomedical sciences group. In addition to the financial incentives EDB offers, Beh believes that developing and retaining quality people is essential: 'We are trying to make sure that Singapore is a magnet for talent and attracts the brightest and best people.'
EDB works with two other key agencies in the development of the biomedical sciences sector - A*Star and Bio*One Capital. A*Star aims is to foster worldclass scientific research and talent. It provides research scholarships and fellowships for university and hospital research programmes and is responsible for coordinating and funding public science research.
A*Star's Biomedical Research Council (BMRC) supports and oversees biomedical research at five national research institutes covering bioinformatics, genomics, molecular biology, bioprocessing technology, bioengineering and nanotechnology. The council promotes interaction with the wider scientific community through extramural research work and research collaborations. Its research institutes are all located at Biopolis.
A*Star launched a scholarship programme in 2001 that aims to attract students into biomedical studies by providing financial help through their first degrees and postgraduate work. 'The first batch of students is now finishing its degrees and going on to do PhD work. A*Star aims to bring 100 students through this process annually,' says Beh. 'These are over and above existing programmes and are designed to produce leaders for our industry.'
The second agency, Bio*One Capital, is a subsidiary of EDB dedicated to providing investments as part of the strategic development of the biomedical sciences industry in the country. While Bio*One Capital has existed since 1990, it began to grow rapidly from 2000 and now controls Sing$1.2bn (?410 million) of funds.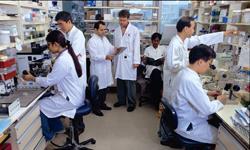 Biopolis
Biopolis was conceived in April 2001 as part of the Singapore Economic Development Board's (EDB) broad vision to develop the country's biomedical sciences industry. Biopolis is a purpose-built biomedical research hub co-locating researchers from both the public and private sectors and is a significant component in a plan to construct a 200 hectare development for R&D and entrepreneurial work, known as One North.
Biopolis was developed at a cost of Sing$500m (?170 million) by JTC Corporation, a leading provider of industrial space solutions in Singapore that offers a range of facilities tailored to suit all types of manufacturing and related operations. The first phase was officially opened in October 2003 and comprises a seven-building complex linked by bridges with a total of 185000m2 of space. In June, EDB announced that Biopolis is to be expanded because 90 per cent of Phase I had already been occupied. The second phase of Biopolis will create an additional 37000m2 in two buildings.
The first phase was capable of housing 2000 scientists. Two of the seven buildings are dedicated to researchers from the private sector, while the others house the biomedical research institutes of the Agency for Science, Technology and Research (A*Star).
The research community is supported by state of the art infrastructure, including shared resources and services providing a full range of research and development activities. Among these services are glassware washing, media preparation - including a variety of the most commonly used tissue culture and bacterial cultural media - and laboratory supplies.
The shared facility also offers a number of high quality technical platforms and support including DNA sequencing, proteomics, nuclear magnetic resonance, a flow activated cell sorting service, structural x-ray and confocal microscopy, microarray and histology.
There are also conference and teaching facilities and a library at the site.
Manufacturing growth
While R&D work is carried out at Biopolis, manufacturing clusters are also growing. One of these is Tuas Biomedical Park, developed by JTC Corporation, which has attracted companies including GlaxoSmithKline (GSK) Biologicals, Merck Sharp & Dohme, Novartis, Pfizer, Wyeth Nutritionals and Ciba Vision. Tuas Biomedical Park currently occupies 183 hectare and a further 188 hectare extension is being planned.
The first overseas pharmaceutical investments in Singapore were in manufacturing active pharmaceutical ingredients (APIs). Beecham (now part of GSK) established the first facility, to manufacture synthetic penicillin, in 1972. In 1982 Glaxo opened a plant to manufacture the API for Zantac.
The number of companies active in Singapore has grown rapidly with many pharmaceuticals companies boasting significant operations there and a new generation of biotech companies being attracted.
There have been many significant developments over the past year. In June 2005, A-Bio Pharma, which began operations in Singapore in 2004 as a contract manufacturer of mammalian cell-derived biologics, entered a service agreement with Novo Nordisk for process development and GMP supply of biologics for its pipeline of biopharmaceutical products. It also has a process development and clinical supply service agreement with GSK Biologicals. Under the contract A-Bio will work with GSK Biologicals to develop and produce clinical lots for one of GSK's pipeline vaccine products. These deals, along with other anticipated contracts, led A-Bio to invest Sing$9m in a new 500 litre stirred tank bioreactor to expand its 200 litre cell culture manufacturing capacity.
In August last year, Lonza and Bio*One Capital announced an agreement to establish a contract manufacturing organisation in Singapore to produce commercial biopharmaceuticals. The plant will include four mammalian bioreactor trains each with a flexible capacity of 1000-20000 litres, along with purification units.
The plant will be completed in two phases. Construction of the plant shell was due to start at the end of 2005 and the final plant build-out will be finished within two years of the shell being completed.
In November, GSK announced that it is to invest Sing$115m in a new R&D pilot plant and laboratory facilities for its work on pipeline drugs at its global manufacturing supply site in Jurong, Singapore.
Over the past two decades Singapore has become one of the three nations of choice, along with Ireland and Puerto Rico, for medical and pharmaceutical research and manufacturing. The reasons for this are clear. It has a healthy fiscal environment and infrastructure enhanced by government funding, a strong skills base, and the government is dedicated to investing significantly in developing its home-grown talent and drawing quality scientists from overseas. Competition to attract investment in the biomedical arena is high, but Singapore has already made its intentions clear.
Mark Whitfield is a freelance journalist
Company profiles
A-Bio Pharma is one of Asia's leading biologics contract manufacturers, providing a full range of manufacturing solutions for mammalian cell culture systems, including process development, optimisation, manufacturing scale-up, GMP production, quality control and regulatory compliance. A-Bio is funded by Bio*One Capital and started operations in Singapore in November 2003 providing GMP manufacturing of clinical Phase I and Phase II biologics. Plans are under way to expand the capacity of this facility to meet increasing production needs globally.

MerLion Pharmaceuticals is a privately owned company engaged in drug discovery from natural products. Its business focus is on discrete R&D collaborations with pharmaceutical and biotechnology companies, and other research organisations possessing novel, validated targets in key therapeutic areas. MerLion has established two major collaborations. In March, Dow AgroSciences announced that it would work with MerLion to identify candidates for new agrochemical agents. The following month, Sankyo agreed to contribute high throughput screening and additional assays while MerLion provides access to its sample collection, screening and natural products chemistry capabilities to isolate new drug leads.

ES Cell International (ESI) is a regenerative medicine company incorporated in Singapore in June 2000. It is a leading provider of products and technologies derived from human embryonic stem (hES) cells. The company owns six of the 22 hES cell lines currently listed on the US National Institute of Health stem cell registry. ESI is concentrating its therapeutic development resources on generating cell replacement therapies for insulin-dependent diabetes and cardiovascular diseases, areas of significant unmet clinical need that it considers offer significant commercial opportunities. The company's business and scientific programmes are geared towards its target to start clinical trials of its first therapeutic drug by 2006.

The Novartis Institute for Tropical Diseases aims to discover novel treatments and prevention methods for major tropical diseases. Initially, dengue fever and tuberculosis will be addressed. In those developing countries where these diseases are endemic, Novartis intends to make treatments readily available and without profit to poor patients. Novartis began work in March 2005 on its new pharmaceutical production centre located at the Tuas Biomedical Park, a facility which is intended to support long-term growth in the Asian market. Novartis is investing approximately US$180m (?105 million) in constructing the plant.

Schering Asia-Pacific opened its Asia-Pacific headquarters in Singapore in June 2005 to meet the fast growing contraception needs of women in Asia. Schering is a research-based pharmaceutical company focusing on four areas: gynaecology and andrology; oncology; diagnostic imaging; and specialised therapeutics for disabling diseases. In 2004, total net sales of Schering in the Asia-Pacific region amounted to US$316m. Its key markets include Australia, South Korea and China. Schering has nearly 1500 employees in the region, including 630 sales representatives.

Ciba Vision, from Atlanta, US, opened a multi-million dollar manufacturing facility at the Tuas Biomedical Park in May 2005. The company specialises in the research, development and manufacturing of optical and ophthalmic products and services, including contact lenses and lens care products. To date, the company has invested approximately US$85m of the total US$250m earmarked for the project in Singapore. The company, the eye care unit of pharmaceuticals and healthcare company Novartis, currently employs 220 people in the country, nearly half of the target of 500.

Rockeby biomed is an Australian stock-exchange listed biotechnology company engaged primarily in the research, development and marketing of products for the diagnosis and treatment of fungal infections in humans. The company produces what it claims is the only blood-based point-of-care test kit to detect vulvo-vaginal candidiasis (commonly known as thrush). Its main market is in-vitro diagnostic testing, covering serology tests in hospitals as well as point-of-care products. Rockeby achieved significant media interest in Asia in November 2005 when it launched a new test kit to detect avian flu virus in birds and humans in just 10 minutes.

Merck Sharp & Dohme (MSD) Singapore is the local subsidiary of Merck & Co. MSD Singapore markets and sells prescription pharmaceutical products to doctors and pharmacists through its local office which was established in 1994. The company currently employs over 120 people. Its active pharmaceutical ingredients plant is Merck's chemical manufacturing plant in the Asia-Pacific region. The state of the art 7.7 hectare pharmaceutical facility began production in 2004 and manufactures the combination of ezetimibe-simvastatin for the treatment of elevated cholesterol. It also supports MSD's worldwide strategic tablet formulation capability.

Lilly Systems Biology in Singapore, part of Eli Lilly, carries out work designed to achieve a high-resolution understanding of complex biological systems to explain and predict their behaviour. The company takes a multi-disciplinary approach to design and implements novel algorithms based on bio-informatics, mathematics, physics, control systems, electrical engineering, and chemical engineering. The Lilly-National University Singapore centre for clinical pharmacology formed in 1966 is the only Lilly clinical pharmacological unit outside the US with its own clinical research unit for conducting clinical trials with new pharmaceutical agents.

Paradigm Therapeutics, a Cambridge, UK-based drug discovery company, formed a wholly owned subsidiary based at Biopolis in November 2003. The subsidiary, Paradigm Therapeutics Singapore, provides an R&D base for the company's genomics-driven drug target validation activities. The company chose Singapore because of the strong skills base in the country allied with the rapid growth in biomedical research facilities, particularly at Biopolis.