Swiss biopharmaceutical company Actelion had a good financial year in 2005 and is now hoping for a drug to take it to the next level of success. Katharine Sanderson reports
Swiss biopharmaceutical company Actelion had a good financial year in 2005 and is now hoping for a drug to take it to the next level of success. Katharine Sanderson reports
2005 was a good year for Actelion. The Swiss biopharmaceutical company announced its third quarter results a week early due to better than expected figures (see Chemistry World, December 2005, p10). This from a company founded with no venture capital investment, just a couple of good ideas and some enthusiastic people.
Actelion makes drugs for chronic but rare diseases. The company was founded in 1997 after a group of five cardiologists and biochemists working at F Hoffmann-La Roche in Basel, Switzerland, discovered a potential pulmonary hypertension drug.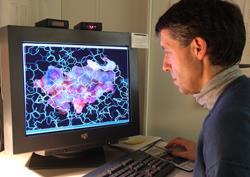 Roche was not willing to put the drug through clinical trials, so the scientists involved formed Actelion to develop and market it.
'We thought we would be brave,' says chief executive officer Jean-Paul Clozel, a French cardiologist who was part of the founding team. 'When we started the company we had zero money,' he says. The risk paid off, and the company is now in what its chief financial officer Andrew Oakley describes as a 'very comfortable position' with cash or cash equivalents of SF344 million (?151 million), and net profit up 62 per cent for the first nine months of 2005, compared with the same period in 2004. The company has 993 employees.
Specialist drugs
After Actelion broke away from Roche the relationship between the two companies remained close. One year later Actelion licensed the Roche-discovered drug, bosentan, although Clozel is keen to point out that Actelion did not receive any money from Roche.
Actelion sells bosentan under the name Tracleer. It is used to treat pulmonary arterial hypertension (PAH), a rare disorder where blood vessels leading to the lungs constrict, then become scarred and sometimes completely blocked. This causes blood pressure in the lungs to become dangerously high, and ultimately leads to death.
Tracleer supresses endothelin - the most potent constrictor of blood vessels known in humans - which is often found in PAH patients. Suppressing endothelin allows patients to exercise more easily, and Actelion claims it significantly lengthens the time taken for the clinical symptoms to worsen.
Although PAH is rare, studies have shown that on average most patients survive just two to three years after diagnosis. Death generally results from failure of the heart's right ventricle.
Clozel explains that there was a struggle in getting GPs to prescribe a minority drug like Tracleer. 'Most of the patients we have didn't even know they had PAH two or three years ago,' he said. The problem was diagnosis - because there was no drug on the market, GPs were not diagnosing the condition.
Another specialist drug, and Actelion's second product, miglustat, is sold as Zavesca. It is used to treat type 1 Gaucher disease, a rare genetic disorder that causes a deficiency of the naturally occurring enzyme glucocerebrosidase. This leads to a build up of glucosylceramide, which in turn causes spleen and liver enlargement, low platelet count, and anaemia.
Zavesca is the first oral drug to be developed for a genetic disease. Enzyme therapy is often used but is unsuitable for some patients with type 1 Gaucher. Zavesca bypasses the need for enzyme injections.
Sales of Tracleer and Zavesca worldwide have accumulated to provide Actelion with a solid financial base. 'We knew that these drugs, which were thought to be small market drugs, would be very big if we launched them everywhere in the world,' said Clozel. He was right. Actelion has quickly expanded and is now present in 21 countries, and that number is increasing every month.
Global expansion
The biggest struggle in Actelion's worldwide quest for expansion was the decision to spread into Japan. As Clozel points out, the culture in Japan makes it very different to the other countries that Actelion has expanded into. 'We are a foreign company, and usually companies have a Japanese partner, which Actelion did not have,' he says. In Japan all the trials for Actelion's drugs had to be done again before the products were licensed, making the move into Japan quite risky. But this was another risk that paid off.
The development of Zavesca and Tracleer highlights Actelion's company strategy. 'It's all about innovation,' says Clozel. Actelion works on small molecules - orphan drugs - for serious, but rare disorders. Its products are then continuously developed and explored as solutions for other related diseases.
The latest test on Tracleer has been disappointing for Actelion. The drug was being tested for patients with idiopathic pulmonary fibrosis (IPF), defined as a progressive lung disease of unknown origin that causes lung scarring. The so-called six-minute walk test was being used as an indicator of a patient's response to the drug, but results have been inconclusive.
Clozel expressed his disappointment that the standard test is not going to be a suitable indicator, but hopes to continue investigating Tracleer for IPF. 'It is now one of Actelion's key priorities to start discussions with regulatory authorities on the design of a mortality/morbidity study in IPF,' he says.
Actelion has a number of other drugs under development, including a new mechanism-of-action antibiotic. The head of antibiotics at Roche is now working with Actelion to create these new antibiotics, the likes of which we have never seen before, says Clozel, and the details of which are a closely guarded secret.
Blockbuster potential
Clozel thinks Actelion needs just one blockbuster drug for it to become a much bigger company. His hopes for this blockbuster are currently pinned on clazosentan, a drug in Phase III clinical trials. Clazosentan can reverse vasospasm - a narrowing of the artery responsible for delivering blood to the brain, heart or other organs. It is the only product on offer for treating and preventing vasospasm-related complications. 'This is going to be a revolution,' says a hopeful Clozel.
Future focus
Actelion's strategy of discovering innovative drugs, developing them in-house, and putting them on the market has not changed since the company was formed. There are no plans to change that strategy, according to Clozel. Actelion will continue to focus on orphan drugs, rather than generic drugs, looking at small molecules and addressing symptoms that GPs encounter frequently in their patients, such as sleep problems and hypertension.
'There is nothing unique in what we do,' claims Clozel. 'We have basically nothing special to protect us except the quality of the people we have gathered.' Seven years ago he would never have imagined that Actelion's founders' risk would be so fruitful. 'It has been above our expectations,' he says of the latest financial results.
Competition in the pharmaceutical industry remains fierce, with other giant pharma companies hot on Actelion's heels. Frances MacDonald, general manager, UK, at Actelion cautions that even though the company operates in a specialist market, 'we will never underestimate the competition'.
As 2006 begins, Actelion continues to develop. Phase II clinical trials are under way for four of its upcoming drugs, including Clazosentan and phase III trials continue for further developing Tracleer and Zavesca. Clozel no doubt hopes that results in 2006 will mirror or improve on last year's. 'The results just reinforce our strategy. It shows that we were right,' says Clozel.