Jerzy Buzek helped fight communism in Poland before becoming its prime minister. Arthur Rogers meets this multi-faceted character
Jerzy Buzek helped fight communism in Poland before becoming its prime minister. Arthur Rogers meets this multi-faceted character
Few MEPs have a background as extraordinary as that of Jerzy Buzek, the chemical engineering professor who was Poland's longest-serving prime minister of the post-communist era.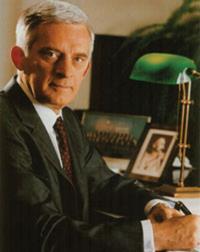 In 1997, having been elected to the Sejm, the lower house of the Polish Parliament, Buzek set off for a holiday in Spain. Then, like some ing?nue plucked out of the chorus line, he was summoned back to Warsaw by party leaders trying to form a minority government based on a disparate coalition of more than 30 political groups. The groups had little in common other than a shared detestation of ex-communists in the outgoing administration.
Beyond his credentials as a leading member of Solidarity, the union movement that led Polish resistance to Soviet control, Buzek was seen as an outsider, a conciliator, and a skilled negotiator. Against the odds, he remained in charge of successive kaleidoscopic coalitions until 2001.
Putting the chemistry in
Buzek's name may be familiar to readers of Chemistry World as the MEP who clinched agreement on the European Union's €50 billion (?34 billion) Seventh Framework Research Programme (FP7) for 2007-2013 (see Chemistry World, January 2007, p10).
As the Parliament's rapporteur, Buzek led months of negotiations with EU governments on the future of European research policy and then mustered a commanding majority within the Parliament for the final deal.
For someone accustomed to dealing with issues on the scale of Poland's accession to Nato
(in the face of opposition from Russia) and his country's membership of the EU, FP7 must have been a stroll. Nevertheless, chemists across Europe should raise a beaker to Buzek for promoting their cause by championing basic research.
In forensic parlance, Buzek's fingerprints are all over FP7, as evidenced by the frequency with which the words 'chemist' and 'chemistry' were inserted into early drafts of the 1000-page legislative text.
'It's necessary to have serious research and innovation in chemistry because it forms the basis of advance in many other fields and the most important industries in Europe,' Buzek tells Chemistry World. 'Everything is grounded in chemistry,' he repeatedly insists.
Research commissioner Janez Potocnik's original FP7 proposal failed to emphasise chemistry, says Buzek. 'This was a very big mistake and one that I am happy that the European Parliament has succeeded in correcting, not least because of my professional background in chemical engineering.'
Buzek is pleased that Parliament improved FP7 without altering the basic structure or the main ideas behind the proposal.
'FP7 marks an improvement on FP6,' he says. 'That was too complicated and failed to give a clear idea on the direction in which research should be heading. Now the targets are much more visible, especially in terms of encouragement for sustainable chemistry, chemical technology, and chemical engineering.'
Efficient energy
In training as a chemical engineer, Buzek specialised in sulfur dioxide. No great surprise there, given the heavy dependence on lignite as a fuel source in central Europe, notwithstanding the resultant spectacular atmospheric pollution and damage to the region's environment.
He insists that innovative sustainable chemistry can now provide answers to some of the EU's environmental concerns and Europe's growing preoccupations over the security of energy supply.
Buzek's speeches and academic lectures nowadays emphasise Europe's need for 'energy-efficient chemistry'. He is no late convert to green politics, having championed the cause of sustainable energy processes since graduating from the mechanical-power engineering department of the Silesian Technical University in 1963.
He went on to a research post and professorship at the Chemical Engineering Institute of the Polish Academy of Sciences in Gliwice, and he is credited with numerous articles and monographs on mathematical modelling, desulfurisation of exhaust gases, and optimisation of chemical processing. Buzek's academic positions are now largely honorary. 'After four years as prime minister, it was very difficult to go back to a full-time academic career, so instead I spent three years mostly as a guest lecturer on foreign policy,' says Buzek. He is currently honorary professor in the department of mechanical engineering at the Technical University of Opole, Poland.
Polish solidarity
A fellowship term at Cambridge, UK, in 1971-72 produced an offer of an academic career in the West, and an escape from the grim conditions in communist Poland. 'I turned down the offer. I had to get back to Poland as quickly as possible. Why? Because Poland at that time was absolutely the place to watch the collapse of communism,' he explains.
By then Buzek was already heavily involved in Solidarity, of which he was an early member. Such was his status within the movement that he was invited to chair its first national congress in 1981.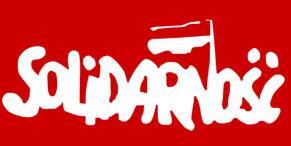 Buzek's origins are emphatically those of 'Mittel Europa', that swathe of the continent where frontiers shift with the passage of decades, creating historiographical confusion over spellings of names and nationality.
His home region of Cieszyn (Tesin in Czech) Silesia, is divided between Poland and the Czech Republic. His birthplace, the small town of Smilowice/Smilovice nowadays stands just within Czech territory. To add to the confusion, the town was claimed by Germany at the time of his birth, 10 months after German invasion of Poland triggered the second world war.
Probably due to Buzek's Czech ethnicity, his name occasionally appears in EU documents in its Czech-influenced spelling of Bucek. However, between 1981 and 1989, when Solidarity was outlawed, he was known to many only by his codename 'Karol', a nom de guerre that helped keep him out of the hands of the secret police as he helped organise Solidarity's underground activities. During this period Buzek managed to stay out of jail by concealing his covert activities behind a smokescreen of frenetic academic activity - 'otherwise the secret police might have suspected that I was not doing what I was supposed to be doing'.
By smuggling bulletins to western radio stations, Solidarity was able to mobilise public support within Poland. 'We were able, for instance, to organise a public transport strike by putting out a bulletin saying that on Thursday at 7am all public transport will stop for 15 minutes. And it happened: buses, trams and trains all came to a halt,' says Buzek.
Euro hit
When Buzek's premiership ended in 2001, he was a shoo-in for the European Parliament, recording in that year's Euro-elections the biggest poll majority in Poland's post-Communist history.
His undamaged personal standing was underpinned by a family history of political activity dating from Poland's two decades of independence as a newly restored nation after the first world war.
Not only was his Euro-election success overwhelming in terms of votes, it was also remarkably inexpensive: supposedly, his supporters did not bother to print a single election poster.
Buzek's loss of office in Poland was a classic illustration of the dictum: the opposition never wins elections, governments lose them. The government collapsed around him due to bickering within the coalition, a fatal contagion that has attracted comparisons with the 1990s implosion of the British Conservative government under John Major.
And just as Major had been elevated from relative obscurity at the Treasury, Buzek was virtually unknown outside Solidarity circles.
Hard work
Buzek has tended to occupy a neutral positioning in national politics, apart of course from his formative opposition to communism. As a Lutheran in a predominantly Roman Catholic society, he benefits from the reputation for honesty and hard work generally enjoyed by fellow Silesian Protestants.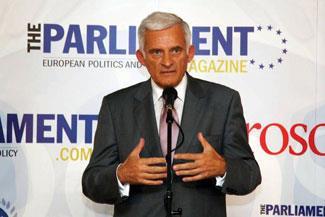 © European Parliament
Poland's 80,000-strong Lutheran minority has in fact produced several national heroes including Napoleonic general Dabrowski (he of the Polish national anthem, Dabrowski's Mazurka) and the father of Poland's regained independence in 1918, Marshal Pilsudski.
However, the multi-party alliance that endorsed him as a candidate for premiership in 1997 reportedly did so without even asking about his religious affiliations and some Polish bishops openly welcomed the ecumenical character of the new administration.
Under Polish rules that prevent politicians accumulating French-style multiple mandates, Buzek's election to the European Parliament meant he was then disbarred from holding political office in his home country.
The switch to Strasbourg permits him to play the role of respected elder statesman at rallies and constituency meetings in Poland while allowing him to avoid entanglement in the latest outbreaks of internecine strife.
Speaking in his eleventh-floor office in Strasbourg, with its panoramic Rhineland views extending from Germany's Black Forest to the French Vosges mountains, Buzek declares his satisfaction with the outcome of his negotiations on EU research policy.
Green energy
On growing concerns about the environment and burgeoning EU dependence on imported energy, Buzek contends that the Parliament rightly underscored in FP7 that many EU countries have 'a big advantage' in terms of indigenous reserves of coal or lignite.
'But at the same time, it's not acceptable to think of 19th or even 20th century uses for coal. It's obvious that we have to develop processes that avoid emissions of sulfur, dust, nitrogen dioxide, and we have to think of ways of diminishing emissions of carbon dioxide in flue gases: a relatively new task. We need quite a new approach to the use of coal as an energy resource, and we can do that through a chemical approach,' he says.
Buzek is gratified that since 2002 he has increasingly been invited by universities and other institutions to lecture on the topic of security of EU energy supply, a subject that allows him to press the case for sustainable use of indigenous energy resources that innovative chemical engineering can deliver.
In lectures, Buzek has pressed the case for advanced technology coal boilers and processes such as innovative coal gasification techniques, including underground coal bed gasification, the development of better chemical processes for solvent capture of CO2 emissions, and the possibility of post-combustion CO2 storage in old coal fields.
Such developments might eventually offer prospects of 'zero emission' energy generation, he foresees.
He also expects that the EU will turn increasingly to his fellow chemical engineers, working in partnership with biotechnologists, for the development of biomass utilisation, bio-processes and bio-refining, as well as environmental remediation.
Frontier science
Under FP7, the new European Research Council has a mandate to support 'frontier' research (see Chemistry World, January 2007, p44). Buzek reiterates the view he voiced in successive FP7 debates that 'Europe has quite good research results, but lack of innovation is our main weakness. We need to get back to fundamental, basic research'.
Buzek can draw on 30 years of experience of chemical engineering in both academic and industrial fields. 'Once you have had the experience of several years' implementation of some innovation, you feel the need for further basic research. I used to end up absolutely empty of new ideas. The ground and basis for real innovation must be fundamental, frontier research.'
While welcoming a revival of interest in basic research, Buzek considers that this move is balanced by further FP7 innovations such as those aimed at attracting industrial investment through big research projects known as Joint Technology Initiatives, and FP7 ideas for European Technology Platforms which will bring together industry and academia in discrete bodies functioning almost like non-governmental organisations.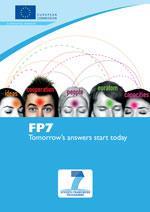 Buzek also supports the idea floated by European commission president Jos? Manuel Barroso of a European Institute of Technology (EIT), although this, he says, should exist as a 'virtual' body - a kind of 'super-networking' entity - rather than as a physical institution, as envisaged by Barroso.
Indeed, the Parliament has insisted that Barroso must find new money for any such initiative, rather than drawing down FP7 money. Here, Buzek admits he may be one of only a dozen MEPs openly supportive of the EIT. But, given his skills in browbeating, he may once again succeed in engineering a consensus.
Buzek wryly admits, however, that his powers of persuasion - and those of his scientist wife - have signally failed when it comes to influencing their children's choice of career: their son has gone into business, while their daughter Agata has gained fame as a film and television actress.
Arthur Rogers is a journalist covering European regulatory and legal affairs. He is based in Strasbourg, France