Research Triangle Park, North Carolina, US ,was initially driven by an emerging electronics industry. It now houses a large number of biotech firms, as Mark Whitfield finds out
Research Triangle Park, North Carolina, US ,was initially driven by an emerging electronics industry. It now houses a large number of biotech firms, as Mark Whitfield finds out
In almost 50 years of existence, Research Triangle Park (RTP) has become home to the fourth largest grouping of biotechnology companies in the US. These work alongside a significant number of pharmaceutical and healthcare businesses.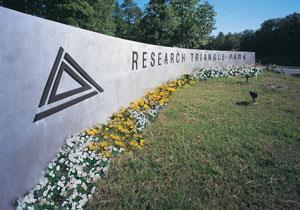 RTP occupies around 7000 acres of land within the triangle formed by Duke University in Durham, North Carolina State University in Raleigh, and the University of North Carolina at Chapel Hill on the US east coast.
While some of the original tenants on the site remain - computer giant IBM was an early participant and the US Environmental Protection Agency based its major centre for air pollution research and regulation at the park in 1971 - the complexion of the businesses working at the site has changed with newer technology, such as biotechnology, making an increasingly important contribution.
'The basic motivation for the formation of the park came after the second world war when North Carolina was experiencing a brain drain,' says Rick Weddle, president and chief executive officer of the Research Triangle Foundation of North Carolina, owner and developer of RTP. 'Children were going to university and then moving out of the state to find work. There was a growing realisation in the state that a change from agriculture to industry was needed. The three flagship universities in the Triangle provided a unique opportunity for the foundation of a planned research park.'
In January 1959 an organisation was established to promote and develop research and development laboratories in the state, a joint effort between academia and private business to stimulate work and stem the brain drain.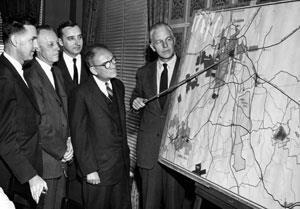 Initial work towards setting up the park had begun in 1956 with the formation of the Research Triangle Committee, which was established to explore the idea of creating the research park. Over the next three years, investors were identified for the scheme and by the end of 1958, $1.25m had been raised to complete the purchase of an initial 3559 acres of land.
RTP today
The site is now home to 145 research and business organisations and employs around 39,000 people. It is a rectangle some eight miles long and two miles wide and fills almost two million square metres of land.
Unlike some concentrations of biotechnology and pharmaceutical research, the site's success comes not from tax breaks and financial incentives provided by government, but from its strength in intellectual property and academic capabilities provided by the three universities and commercial interests in the park itself, says Weddle.
A piece of local legislation provides a small financial break for companies on the park. Durham and Wake counties, in which RTP is located, is a self-taxing district, explains Weddle. 'Because of this, tenants enjoy a 40 per cent property advantage as there are no municipal taxes in the park,' he says, 'Companies are protected from the requirements of different municipalities.'
The only state assistance comes in the form of finance for road building. The transport infrastructure around RTP is good, with the interstate 40 - stretching from Wilmington in North Carolina to Barstow, California - running through the park. Raleigh Durham International Airport is also located immediately adjacent to RTP.
According to Weddle, 'the companies in the park themselves have become knowledge assets. Today the critical mass of clusters and its employee resource provides an equal force to the universities.'
The affiliation to the three universities provides unexpected benefits to companies located on the park. 'Companies will probably benefit from all three universities which themselves will be competing for business,' says Weddle. The collaboration between private and public universities - North Carolina State University in Raleigh and the University of North Carolina at Chapel Hill are both public while Duke University at Durham is privately owned and run - also adds many positive opportunities at the park.
In its early years, RTP was driven by emerging electronic technology. In 1965 its growth began to gain momentum as IBM moved in and the park developed a dominant niche in computing and microelectronics with a shared computer facility. In the same year the National Institute of Environmental Health Sciences set up its headquarters at the site, where they remain today.
In chemicals, Chemstrand, a joint venture between Monsanto and American Viscose, formed to produce synthetic fibres, purchased 100 acres on the site in 1959; one of the major developments at the facility was the development of astroturf. Monsanto had a major presence at RTP for over 10 years.
In 1968, Burroughs Wellcome moved 3000 employees to Greenville, North Carolina and RTP. In 1983 Glaxo moved its R&D facilities to the park and the North Carolina Biotechnology Center was created in 1985 to help recruit pharmaceutical and biotechnology companies to North Carolina.
Other significant companies moving to the park included Union Carbide (which became Rhone-Poulenc, and subsequently Aventis CropScience before being acquired by Bayer), and Novartis/Syngenta forerunner Ciba Geigy established a facility in 1984. In 1986, BASF Agricultural Products set up a facility in the park.
North Carolina Biotechnology Center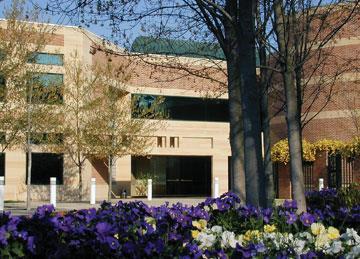 When the first successful genetic engineering experiments were conducted in the 1970s, state leaders in North Carolina identified substantial potential benefits, both economic and for society, that the new technology could bring to the state.
In 1981 the state created the North Carolina Biotechnology Center (NCBC) to stimulate the development of the technology.
Initially a part of state government, the centre was reconstituted in 1984 as a private, non-profit corporation. As a 'neutral, non-partisan' organisation, NCBC promotes interaction between industry, academia and government for technological development. Working with these groups, NCBC is active in moving biotechnology from the laboratory to the marketplace. Unlike many biotechnology initiatives in other states, the centre conducts no laboratory research. Instead, it works to strengthen the research capabilities of North Carolina's companies and universities.
NCBC is funded by the North Carolina General Assembly, which dedicated $4.5 million (?3 million) for the centre 's programmes and activities in 2002.
As a state, North Carolina has ranked third in the US for its number of biotechnology companies for three consecutive years, according to a 2006 industry survey by Ernst & Young.
More than 345 bioscience companies have operations in North Carolina, employing at least 48,650 people, according to BioSciNC, the Biotechnology Center's online companies database.
Strengths in biotechnology
According to Weddle, biotechnology has become one of the core strengths of the park. As well as being the fourth largest site for employment in the industry, half of all biotechnology jobs in North Carolina are in RTP. 'While biotechnology doesn't create a lot of jobs, it creates good jobs,' says Weddle.
Incentives are available to employers who take on higher paid workers through job development investment grants. These are awarded to new and expanding business and industrial projects whose benefits are considered to exceed costs to the state and which would not be undertaken without the grant. Since the first grant was awarded in 2003, the programme has created more than 13,000 jobs and $2.3 billion (?1.2 billion) in investment to North Carolina.
The concentration of high level jobs in the park has led to a 'rich and robust labour pool' says Weddle. 'Looking at the resource in terms of cost, quality and quantity we think of it as ''labour cubed'',' he says. It is this that helps the park stand out against its competitors, Weddle adds. He illustrates this by underlining that the services the park provides are moving from offering a comparative advantage, where products are compared from a cost point of view, affecting the bottom line for players in the park, to what he sees as a competitive advantage where companies can begin to look at what value RTP can offer in terms of their strategic and financial platforms. These affect both top and bottom line growth. 'Our principal competitor is ourselves,' Weddle says, 'We must consider how competitive we can become to help companies grow and succeed and expand.'
The reasons that companies are setting up facilities in China are different to those for them being in RTP, Weddle believes. Businesses are now establishing at RTP because of the current strength of the US research and development market. This allows the park to perform a complementary role in international companies' strategic development plans. 'RTP is coming together with other regions to provide businesses with an integrated global platform for research and development activities,' he adds.
The vision of the park is the same now as it was when it was established in 1959, Weddle says. The emphasis on new technologies hasn't changed and it is one of the park's earlier mainstays, computing and electronics, that is seeing a resurgence in interest through the technology requirements of the financial services industry. For example, in 2004, Credit Suisse First Boston invested over $100 million in establishing a global business centre in RTP, creating 400 jobs.
Weddle, who has been in his post for two years and spent 25 years in regional economic development across the US, has succeeded in attracting the International Association of Science Parks 2009 world conference to RTP. A fitting celebration for the park's 50th birthday.
Mark Whitfield is a freelance journalist based in London, UK.
RTP company profiles
Eisai
Eisai is a pharmaceutical company based in Teaneck, New Jersey, US, which operates in 30 countries worldwide. Earlier this year, Eisai announced plans to spend $90 million (?48 million) on a new pharmaceutical production and formulation R&D facility for parenteral - intravenous - oncology treatments in Research Triangle Park (RTP). The 6040 m2 facility will include aseptic processing suites, laboratories, and other support functions, with operations expected to begin in 2009. Eisai has been present at RTP for 10 years and this is the third announced expansion at the park since 2001. Its existing 17,650 m2 facilities are devoted to producing Aricept and Aciphex tablets and to the formulation R&D and manufacturing of compounds for use in clinical trials.
Endecea
Development stage biopharmaceutical company Endecea offers a proprietary A1 adenosine receptor-based platform for the treatment of asthma, ischaemia-reperfusion organ injury, and Gram-negative septicaemia, as well as an endotoxin assay. The company's lead compound, L-97-1, is being developed for the prevention and early treatment of asthma. It has a dual mechanism which prevents both bronchoconstriction and inflammation. Endecea predicts that this oral monotherapy will reduce or eliminate the need for inhaled steroids. Other indications for the compound include allergic rhinitis, chronic obstructive pulmonary disease and reperfusion injury of the heart.
Reichhold
Composites and coatings manufacturer Reichhold has its world headquarters and technology centre at RTP. The company has 1600 employees and has manufacturing facilities in North America, Brazil, Mexico, Dubai, Czech Republic, Italy, France, Norway, and the UK. The company claims to be the world's largest supplier of unsaturated polyester resins for composite applications across a wide variety of processes and markets. It manufactures over 450 000 tonnes per year of resins and gel coats for markets including marine, transportation, home and building, and piping. Reichhold's coatings products include powder coating resins, alkyds, acrylics, urethanes, epoxy resins, epoxy curing agents, and radiation-cured solutions.
Aerie Pharmaceuticals
Duke University Medical Center spin-out Aerie Pharmaceuticals is a biotechnology company headquartered at RTP that specialises in developing new therapies for sight-threatening diseases. Aerie has a portfolio of intellectual property licensed from the Medical Center and is developing a pipeline of proprietary products for the pharmaceutical treatment of glaucoma. The company's core capabilities are in developing proprietary medicinal chemistry and in cell-based high-throughput screening of novel compounds. Aerie's leading clinical candidate, AR-101, is the first of a second generation of prostaglandin analogues with the potential to provide both high efficacy and an improved safety profile. AR-101 is expected to go into Phase I and Phase II clinical studies this year.
Syngenta
Swiss agrochemical company Syngenta specialises in crop protection products and commercial seeds. Ciba-Geigy (a legacy company of Syngenta) first established a biotechnology research facility in RTP in 1983 and the facility has grown and developed to include expansion of the laboratories and greenhouses in 2000, and the addition of an administrative and conference centre in 2002. Based at RTP, Syngenta Biotechnology (SBI) employs around 250 people and is the company's strategic research and technology centre, focusing primarily on crop genetics research and providing a variety of support functions, including experts in intellectual property, licensing and regulatory affairs. SBI research areas include plant transformation, improved animal feed, improved grain processing, cereal functional genomics, insect control, disease control, and weed control.
Alnis
Alnis is a drug development company that is developing treatments for cancer as well as for infectious and inflammatory diseases. The company has engineered nanoscopic hydrogels, or nanogels, composed of polymers, bioactives, and targeting molecules. These nanogels are intended to target selectively pathological tissues, treat the disease, and afterwards simply disintegrate, returning to the individual components from which they were formed. Throughout this process, the nanogels are designed to provide the patient with a lower systemic exposure to the toxic effects of bioactive components and to improve potency. Each nanogel particle is typically 10 nm in diameter, with low size dispersion, and is made up of hundreds of bioactive and oligomeric carbohydrate molecules.
Cromoz
Cromoz is developing innovative drug discovery tools to help increase the productivity of researchers by reducing the time required to search, analyse and visualise information on a specific disease. The company builds integrated knowledge bases to help analyse and interpret various types of data including nucleotide and amino acid sequences, protein domains and protein structures. Its bioinformatics services span the drug discovery and development cycle, allowing clients to make the most of their research information. Cromoz offers data-mining services from both public and private databases, annotation of chemical, biological, pharmacological and toxicity information from patents, journals or targets, informatics and IT consulting.
Qualyst
Qualyst was founded in 2001 on discoveries by three professors in the School of Pharmacy at the University of North Carolina at Chapel Hill, US. For many years, Qualyst's founders pursued basic research to understand the fundamental principles behind absorption, distribution, metabolism and excretion (ADME) processes at the cellular and molecular level, and to relate these processes to drug toxicity (ADMET). Qualyst focuses on commercialising novel and proprietary ADMET products for drug discovery and development customers. The company's in vitro assays can be used to help assess the therapeutic potential of drug candidates, as well as to identify and address ADMET challenges that arise during the development process. Qualyst says that it intends to commercialise one novel ADMET product each year.
Zen-Bio
Based at RTP, Zen-Bio was created over 10 years ago to meet the needs of investigators interested in understanding human obesity, diabetes, and cardiovascular disease. The company's contract assay services combine scientific experience and expertise with its validated cultured human adipocyte (fat cell) system.
It offers a variety of assays to test compounds for potential as diabetes and obesity therapies and says that its services can offer significant savings over the cost of starting a human adipocyte programme.
GlaxoSmithKline
Pharmaceutical giant GlaxoSmithKline has a large R&D facility on the RTP site. The facility focuses on metabolic and viral diseases, as well as microbials, musculoskeletal and proliferate diseases. It also houses the company's sales and marketing, administrative and corporate functions.