China takes the toughest line on corruption
Hepeng Jia/ Beijing, China
As China battles to root out corruption from its pharmaceutical sector, the former head of the State Food and Drug Agency (SFDA), Zheng Xiaoyu, has been sentenced to death after being found guilty of taking bribes.
Yet despite Zheng's high-profile example, industry experts say that a more systematic approach to cleaning up China's drug business is essential for its healthy development.
On 29 May, Beijing First People's Intermediary Court ruled that Zheng, 62, should be executed for taking bribes of 6.49 million Yuan (US$ 848,366) from eight pharmaceutical and medical equipment firms and illegally approving their products.
The court explained in its ruling that Zheng's behaviour had destroyed the normal drug regulatory procedure, threatened people's lives and health, and had a major societal impact.
Before retirement in 2005, Zheng had ruled China's SFDA for eight years, since the agency's establishment in 1998. He is the only senior central government official to be sentenced to death on bribery and corruption charges in the past five years (Cheng Kejie, former vice-chairman of the National People's Congress, was executed in 2000). Although other officials have been convicted in recent years of taking greater sums in bribes than Zheng, they were sentenced to life imprisonment or slighter penalties. Zheng said he would make an appeal.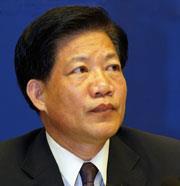 Qian Lieyang, a criminal defense lawyer of Beijing-based East Associates Law Firm, says that officials taking bribes of more than US$12,000 can legally qualify for a death sentence, but Zheng's more severe penalty could be because of the disastrous results of his behaviour. 'I think in this situation, the chance for Zheng to overturn the first instance in the second ruling is very low,' Qian told Chemistry World.
Shaken confidence
Zheng's sentence comes after a series of medical scandals have claimed dozens of lives in China and shaken people's confidence on the country's fast-developing pharmaceutical industry.
Last year, 11 people died in China after being injected with drugs produced by a company in Qiqihar, in northeast China's Heilongjiang province. Separately, six people died and 80 fell ill after taking an antibiotic produced in east China's Anhui province in the same year.
Wang Yuexing, board secretary of the Beijing Pharmaceutical Group, says that with Zheng's death penalty, SFDA officials would be more disciplined in processing new drug applications, which will benefit law-abiding pharmaceutical firms.
SFDA officials were unavailable for comment - but on the same day of Zheng's sentence, the agency's website posted the second draft of the revised Regulation on Medicine Registration to call for public comments. In the new draft, the rules for approving new drugs has become more rigorous, ruling out changes in dosage or branding as sufficient criteria for a new drug application. The new draft also stipulates public hearing process for key issues in pharmaceutical regulation.
Wang points out that harsh discipline and tightening drug regulation are not enough to encourage most Chinese pharmaceutical firms to pursue genuine innovation. 'Most companies are still too weak to develop innovative medicines - a system from greater pricing rights to wider medical insurance coverage is needed to encourage innovation,' Wang says.
Gao Jingde, a fake-drug investigator based in Shanghai, adds that more disciplinary actions against local branches of the SFDA are needed, as fake and substandard drugs - which Gao claims to be rampant - are mainly a result of the negligence of local SFDA officials. 'As a whole, more transparent supervision against the whole SFDA system is needed if the agency is to be stopped from abusing or misusing its power,' Gao told Chemistry World.