Scientists have welcomed an economist's review into the costs of climate change.
Scientists have welcomed an economist's review into the costs of climate change, which warns of global recession if greenhouse gas emissions are not stabilised.
A proper economic analysis was long overdue, providing independent support for the views of scientists accused of hyping up climate change, Dave Reay, National Environment Research Council (Nerc) research fellow at Edinburgh University, UK, told Chemistry World. 'If this is the tipping point, I don't mind if it comes from an economist,' he said.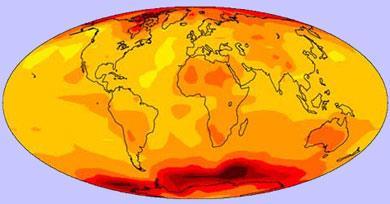 The government-commissioned report, carried out by former World Bank chief economist Sir Nicholas Stern, warns that the global economy could shrink by up to 20 per cent unless action is taken now to reduce greenhouse gas emissions; Stern estimates an R&D investment of one per cent of global GDP is needed.
'The Stern Review finally closes a chasm that has existed for 15 years between the precautionary concerns of scientists, and the cost-benefit views of many economists,' commented Michael Grubb, professor of climate change and energy policy at Imperial College London and the University of Cambridge, UK. And, said Grubb, it was encouraging that although Stern saw the problem as massive and urgent, it could be solved.
'This should be a turning point in a debate which has pitted short term economic interests against long term costs to the environment, society and the economy,' said Martin Rees, president of the Royal Society.
To tackle climate change, said Rees, action must be taken on many fronts: government should invest in research and technology; industry - and individuals - should use energy more efficiently; carbon dioxide emissions should be costed; and deforestation should be addressed. Environment secretary David Milliband has already confirmed that the government is considering using 'green taxes' to curb emissions.
But as Stern pointed out, only a global consensus on these issues could cut greenhouse gas emissions on the necessary scale. Ian Colbeck, director of the Centre for Environment and Society at the University of Essex, agreed: 'It only needs two or three of the major CO2 emitting countries to ignore the warnings to offset any reductions made elsewhere,' he said.
Richard Van Noorden