Europe's cosmetics industry is launching a counter-offensive against demands for tougher regulation on sun creams.
Arthur Rogers, Brussels
Europe's cosmetics industry is launching a counter-offensive against demands for tougher regulation of the lucrative market in sun protection products.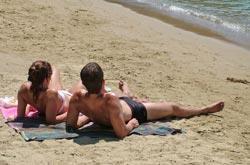 With incidence of skin cancers on the increase, Britain's Trading Standards Institute is among UK bodies calling for minimum product standards at European Union level, along with improved labelling guidance.
Internationally, there are claims that consumers are unclear about product choice and proper use of sun creams and tanning lotions, and that consumers may have a misplaced belief that they can buy guaranteed protection against melanoma, now the third most common cancer among UK women under 35, the fifth most common among men.
Currently, sun creams and tanning lotions are subject only to a light regulatory touch under the EU Cosmetics Directive, unless it is claimed that a product prevents photodermatoses. Products in that category fall within the scope of Europe's medicinal products authorisation regime.
The current regime has been condemned in unpublicised recommendations issued to European governments in January by the 46-nation Council of Europe (CoE).
After three years of discussions in Strasbourg, health experts drawn from CoE member states called for regulations, 'harmonised at European level', covering 'efficacy of sun protection products, conditions of use and methods used to measure protection parameters.'
The recommendations have been formally endorsed by 18 CoE states - including the UK - that collaborate on health policies. The most controversial relate to the current sun protection factor (SPF) system. SPFs supposedly guide users on the level of protection provided, notwithstanding variables including age, skin type, and altitude.
The panel recommended that SPFs should be relegated to the labelling small print, and eventually abolished. Instead, products should be presented in more simple terms, as offering low, medium, high or very high protection.
Experts also want clear, uniform guidance on choice of product according to skin type, and on correct use, especially the need for frequent, all-over application.
'SPFs have been established with different methods and following different scales, [and] are sometimes presented with deficient user information,' Sabine Walser, a CoE official responsible for pharmaceutical and cosmetics policy told Chemistry World.
But the politically influential European Cosmetic Toiletry and Perfumery Association (COLIPA) contests the Strasbourg recommendations.
Gerald Renner, COLIPA's Brussels-based director, told Chemistry World: 'The CoE has really gone overboard by recommending the abolition of SPFs, which constitute the main way in which consumers can choose between products, although consumers might not understand how an SPF has been established.'