China's ambitious plan to expand its nuclear industry will not falter, even with the escalating crisis in Japan
By Hepeng Jia/Beijing, China
As the nuclear crisis at the Fukushima Daiichi nuclear power plant in Japan escalates and continues to be the cause of worldwide concern, China is unlikely to stop its ambitious plan to expand its nuclear industry.
'The [Fukushima] accident will impact nuclear development worldwide, but in my opinion, it will not influence China's overall nuclear strategies,' said Zhang Guobao, newly retired director of China's National Energy Bureau at a seminar on low-carbon energy in Beijing, on 24 March.
In response to the crisis, the Chinese premier Wen Jiabao asked for nuclear facility safety across China to be completely scrutinized and for the approval of new nuclear plants to be suspended. He also ordered that a national plan on nuclear safety should be drafted.
China has 13 operating nuclear power reactors, with another 20 currently under construction. With this massive development, the installed nuclear power capacity will reach 80 million kilowatts by 2020, meaning nuclear power will contribute seven per cent to China's total power supply within 10 years.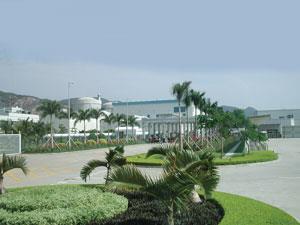 Compared with the nuclear facility in Fukushima, China's reactors are thought to be much safer. Natural disasters like earthquakes and tsunamis will not destroy their cooling systems, said Pan Ziqiang, China's top nuclear safety expert from the China National Nuclear Corporation (CNNC), at a media workshop on 25 March. 'To take a more cautious attitude after the Japan accident will be good for the healthy development of the nuclear industry,' he added.
China, the world's largest carbon emitter, has promised that by 2020, its carbon emissions per unit of gross domestic product (GDP) will be reduced by 40 to 45 per cent compared with 2005 values, and it is widely believed that this goal cannot be achieved without massive development of nuclear power.
However, the safety audit of nuclear facilities planned by Wen Jiabao and the suspension on approving new reactor construction could highlight other unknown problems. According to leading business newspaper 21st Business Herald, the three nuclear energy groups, CNNC, China Guangdong Nuclear Power Holding Corporation (CGNPC), and China Power Investment Corporation (CPI), have obtained a total of Yuan800 billion (?75 billion) in bank credits. If any of the reactors under construction are halted due to safety concerns, or have poor operation records after completion, the banks will risks losing their earlier loans.
'In a sense, while reviewing safety issues, the current caution of policymakers can help people rethink the possible regulatory, technological and commercial shortcoming of China's nuclear power projects,' says an industrial insider who refused to be named.