Europe moves to ban hazardous mercury exports
Arthur Rogers/Strasbourg, France
The European Parliament is supporting plans to ban exports of mercury. Politicians hope such a ban would curb hazards in the developing world created by the use of mercury in activities such as wildcat gold mining.
"Developing countries serve as Europe's dumping ground" - Dimitrios Papadimoulis, MEP
Demand for mercury grew strongly in developing countries between 2001 and 2006 as the price of gold soared from $260 (?130) to $725 per ounce, according to the United Nations Environment Programme.
UNEP estimates that use of quicksilver in artisanal mining to capture specks of gold in a gold-mercury amalgam accounts for around a third of all anthropogenic emissions of mercury, at up to 1000 tonnes a year.
EU exports amounting to 800 tonnes a year mean that developing countries 'serve as Europe's dumping ground', according to Greek MEP Dimitrios Papadimoulis, the Parliament's rapporteur on the draft legislation.
Surprising trade flows
MEPs want to extend the prohibition to exports of cinnabar ore and compounds with a mercury content of more than five per cent by weight, on grounds that these materials could be used to recover the metal. They hope that an extended ban will block off some of the 'surprising' trade flows revealed by EU researchers in 2004 (see link below, Mercury flows in Europe and the world).
One study revealed that mercury from decommissioned chlor-alkali plants in the European chemicals industry was being sold to Europe's dominant mercury trading firm in Spain, which then shipped it to Germany for conversion into mercuric oxide that was sold to China for the manufacture of button-cell batteries. Those batteries then turned up in mass-produced watches exported to the EU and USA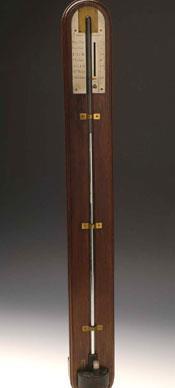 The proposed export ban is a further initiative under the EU Mercury Strategy approved by MEPs in March 2006, which predicts further restrictions on use of the metal within the EU. Makers of highly specialised medical instruments will be exempted, but not traditional barometer makers and restorers, barring some late reprieve for Britain's three registered manufacturers.
The exports issue is proving controversial. The European Commission rejects as 'either unnecessary or unjustified' the Parliament's June 20 first reading of amendments concerning ore and compounds.
Given that mercury mining had ceased in the EU, with the end of operations in Spain's Almaden region, an export ban on ore would be particularly pointless, according to the Commission.
A protracted struggle between the Parliament, the Commission - and ministers who must also approve the plan - means that the EU has no chance of introducing the ban on 1 December 2008, as Europe's environmental nongovernmental organisations had hoped. MEPs see 2010 as a more realistic target, though the Commission proposes 2011.
Europe's mercury lake?
Issues concerning safe storage of Europe's surplus stocks of mercury are also proving contentious.
MEPs argue that Spanish expertise in handling mercury should be exploited by creating at Almaden a single EU storage facility, pending development of techniques for safe disposal of the metal.
'The Commission is well aware of the economic and social implications of the [Almaden] mine closure and the end of trading activities on the site,' according to a release from Brussels. '[The Commission] does not, however, want to prescribe a single storage site.'
MEPs fear that, left to their own devices, governments may resort to storing mercury in locations such as old salt mines where, however stable the geological conditions, mercury may leach into underground watercourses.
Enjoy this story? Spread the word using the 'tools' menu on the left.