Claims that American Chemistry Council was 'intimately involved' with flame retardant group exposed as industry front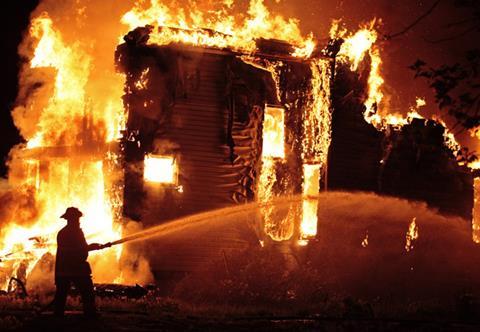 Explosive allegations levelled at the American Chemistry Council (ACC) by a former industry insider are exposing frictions underlying the science and policy of flame retardants.
Before it was discredited and disbanded in the summer of 2013, the Citizens for Fire Safety Institute (CFFSI) purported to be a non-profit coalition of fire professionals, burn centres, doctors, fire departments and industry leaders advocating for the highest fire safety standards. But when the organisation was exposed as primarily a front group for the chemical industry, and flame retardant manufacturers in particular, the American Chemistry Council (ACC) immediately distanced itself and said neither its staff nor its resources were used to support the organisation's activities.
But now the ACC's story is being challenged by Grant Gillham, a consultant who was hired to develop a national public relations campaign promoting flame retardants through the CFFSI. Gillham says he had a six-year relationship with the ACC and three of its members who manufacture flame retardants – Albemarle, Chemtura and Israeli Chemical Corporation – that began in 2007. Together, he says, they set up the institute as a non-profit whose role was to advocate for the use of flame retardants in furniture, home goods and building materials. At all times, he says, the institute coordinated closely with the ACC's senior staff and legal counsel.
Over its five years of operation, the CFFSI's advocacy campaign defeated 58 of 60 separate piece of legislation that addressed flame retardants in 21 states, according to Gillham.
'Intimately involved'
'They were intimately involved in the day-to-day operations of our activities,' he says of the ACC. But when the Chicago Tribunebroke the story of the industry front group for flame retardants he says the ACC painted a picture of the CFFSI as a rogue entity that did not meet its ethical standards.
ACC did not support Citizens for Fire Safety. End of story
The ACC continues to deny any involvement with the CFFSI to this day. Back in June 2012 the ACC's president and chief executive, Cal Dooley, wrote to a member of the Maine state legislature and said: 'ACC is not affiliated with the Citizens for Fire Safety, and neither ACC staff nor resources were used to support activities undertaken by the group.'
Dooley's proclamation is echoed by others at the ACC. The council's vice president of communications, Anne Kolton, tells Chemistry World: 'ACC did not support Citizens for Fire Safety. End of story.' She insists that the ACC was not involved in the creation or operation of the CFFSI. 'We did not provide any financial support and any interaction was infrequent and at the encouragement of the companies involved in both of the separate groups,' Kolton says.
But Gillham says she 'is not telling the truth'. In fact, emails and other documents that he gave to the Center for Public Integrity do indicate that ACC staff members were coordinating with Gillham on flame retardant advocacy efforts.
These records also seem to support the theory that ACC employees were organising and participating in meetings with Gillham and the three member companies comprising the CFFSI. However, Kolton notes that Gillham doesn't even appear to be included in many of the allegedly incriminating emails that he has provided.
Steve Levan, the vice president of advocacy for Albemarle, says the CFFSI was 'critical to raise awareness of the importance of fire safety and to give a voice to those who want to speak out on this important public issue'. But he notes that Albemarle moved all of its advocacy activities to the ACC's North American Flame Retardant Alliance in 2012.
'While we will not comment on what might motivate someone to make the claims that are being made, we will say that CFFSI took no direction from the American Chemistry Council,' Levan adds. He notes, however, that the three companies participating in the CFFSI would communicate with the ACC when broader issues of chemical industry relevance were involved. 'But, neither CFFSI nor its directors were accountable to ACC,' Levan states.
Safe science
Nevertheless, Gillham maintains: 'The ACC essentially allowed us to go out and provide representations as to the science of the safety and the effectiveness of fire retardants, and no one gave us any science to support those claims.' Gillham says he had requested independent peer review of the member companies' science by a major university, but that never happened because it was going to cost approximately $20,000 (£13,000).
'ACC is just trying to distance itself from the controversy,' says Duke University environmental chemist Heather Stapleton. Stapleton has conducted research on flame retardants and found that about 80% of the baby products her team examined – such as car seats, nursing pillows and strollers – contained various flame retardants.
Stapleton says the science shows that Americans are exposed to numerous flame retardants, and this contact has been associated with hormone regulation and cognition problems. Meanwhile, Stapleton argues that the benefits of such chemicals remain unclear. In fact, she says her research suggests they offer no benefits in a house fire.
In contrast, Albemarle's Levan insists that there are 'decades of independent and peer reviewed research that support the fact that flame retardants save lives and are safe'. He points to the websites of Albemarle and the ACC's North American Flame Retardants Alliance.
Meanwhile, Gillham is now backing new legislation introduced in California that would require manufacturers to add labels to products for children, such as car seats and nursing pillows, if they contain flame retardants. Gillham says that the media attention surrounding this recent bill is what prompted him to go public with his allegations. 'I thought it was a good time to get my point injected into the debate,' he tells Chemistry World.