Outmoded equipment lets chemical pollutants slip through the net
Hepeng Jia/Beijing, China
Many potential polluters of China's rivers and lakes are not meeting government requirements to monitor their local water quality. Since 2005, Chinese government policy has stated that automated water quality monitoring systems - which provide real-time data - should be installed next to all possible polluting sources. Despite this, many companies are not adhering to policy, says Ma Jun, director of the Institute of Public and Environmental Affairs. Those that are often don't have systems sophisticated enough to pick up chemical pollutants such as dioxins.
Rapid reactions
Conventional water monitoring involves collecting samples to take back to the lab for analysis but automated water monitoring systems analyse water as it flows through sensors or different analysis devices. The equipment commonly monitors standard parameters such as water, pH and chemical oxygen demand (COD). Then, within minutes of collection, the data are transmitted from the monitoring sites to computers in environmental analysis centres. 'The key requirement for automated water monitoring is that it is quick and reliable,' says Liu Xiaoru, a leading scientist at the Water Environmental Monitoring and Research Centre (WEMRC), affiliated to the Ministry of Water Resources (MWR). If there is a surge in the concentration of certain pollutants, the system can rapidly alert environment regulators to take emergency action.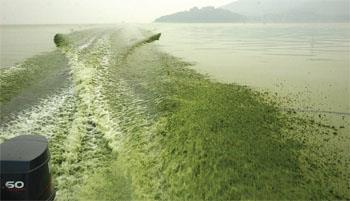 Chinese policy makers started to pay attention to automated water monitoring systems in late 2005 when a blast at a chemical factory in the northeastern province of Jilin polluted the drinking water of millions of residents along the Songhuajiang River in Northeastern China and part of far East Russia.
During the crisis, delays in sample analysis plus the initial information blackout meant that downstream Chinese cities, as well as some far eastern Russian towns, were unprepared for the sudden pollution of their drinking water.
'With an automated water monitoring system, an early warning can be made hours, or even days, before the arrival of polluted water in downstream cities,' says Qiu Tongyu, commercial manager, China, for US environmental engineering company Hach, a major supplier of water monitoring systems in China.
Despite the sophistication of the automated water monitoring systems, Liu says that monitoring focuses mainly on general indicators, such as COD or total amounts of nitrogen and phosphorus. There is still a lack of devices to detect many organic pollutants, such as dioxins. Those that exist are too costly. 'This makes it hard for us to understand the complete water environment,' she told Chemistry World.
Liu also points out that the current properties used to judge water quality are still based on lab tests. In the time that it takes to collect and transport water samples, the physical and chemical properties of the samples can change. This means that parameters such as critical pollutant levels can't be transferred directly to real-time automated monitoring systems,' says Liu.
In addition, maintaining the automated devices, involving replacing reagents and cleaning sensors, is difficult for workers in the field, says Wang Yuhua, a water expert at the Zhengzhou-based government body Yellow River Conservancy Commission.
Regulatory barriers
Some of the biggest challenges for automated water analysis lie in the regulatory arena. 'Current regulations require major potential polluters to install and operate water monitoring facilities but the companies are highly reluctant to operate facilities that may produce unfavourable data,' Qiu told Chemistry World.
Potential polluters in many regions are currently required to submit data four times a day to environmental protection agencies through the automated water quality monitoring system. But companies can easily adjust their waste emission time to avoid 'bad' data,' says Qiu. And there is no way of guaranteeing that the potential polluters carry out frequent maintenance on the sophisticated automatic devices.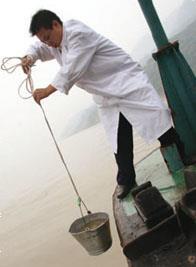 The penalties for breaking the rules are not severe. According to the 2005 policy issued by the State Environmental Protection Administration (now the Ministry of Environmental Protection), companies that do not install the automated water quality monitoring in the required time or that destroy facilities or falsify data are fined less than 10000 yuan (US$1470) or 100000 yuan (US$14700) respectively. The fines are far lower than the cost of sewage processing in the case of pollution.
According to an article in the environmental portal cctvep.com, there have been 140 major water pollution cases since the Songhuajiang water crisis in 2005. These include a massive growth of blue algae in Taihu Lake in 2007, causing drinking water problems for many cities in the developed Jiangsu Province.
The widespread failure of potential polluters to operate the automated water quality monitoring systems has resulted in calls for third-party operators to be set up - independent of environmental agencies and potential polluters.
Guangzhou-based Guangdong Xinchuangjian Environment Investment is a third-party operator that has developed an automated water quality monitoring system in the Huadu District of Guangzhou, the capital city of Guangdong Province.
'The reliability of our system is no problem. But we often face insufficient funding to update our reagents or adjust devices because the funding from the local environmental bureau - our client - is far from enough,' says Zhou Xiaorong, the company's top expert in operating the system.
'Everyone knows the importance of monitoring the environment, but no-one pays the bills,' complains Zhou.
Solutions ahead?
Alongside environmental protection agencies, there are other government departments or government-affiliated organisations in charge of water monitoring. These include the Water Resource Ministry, which is in charge of river quality monitoring, and the Ministry of Housing and Urban-Rural Construction, which is in charge of urban water supplies and sewage farm management.
'If all the agencies can work closely and share their data frequently, automated water quality monitoring will be much improved,' Qiu explains.
For example, even if potential polluters do hide data, their emissions will influence the water quality in nearby rivers which are regularly monitored by the Water Resource Ministry. The ministry could forward pollution data to environmental protection agencies, which could soon discover which polluters are making emissions or falsifying data.
Liu of WEMRC says there have long been proposals to share and unify the data of different environmental monitoring data. 'Researchers in our water system have difficulty sharing the data from environmental protection agencies. Solutions have to depend on the decisions of leaders,' she says.
To Ma, from the Institute of Public and Environmental Affairs, the solutions lie in transparency and public pressure. 'If the public - the local communities and professional organisations commissioned by them - can have open access to the automatic monitoring data through the websites of environmental agencies, they can quickly identify whether some data are falsified,' Ma told Chemistry World.
The public has a great incentive to compare water monitoring data in natural rivers and those from their nearby polluters to find out whether their local environment is safe, he adds. The public demand for knowledge will put pressure on potential polluters to use automated monitoring devices and on the environmental agencies to punish the wrongdoers, Ma concludes.
Enjoy this story? Spread the word using the 'tools' menu on the left.
Also of interest
Chinese sewage plant study raises concerns

Levels of some toxic pollutants rise after treatment