Clever packaging enables tiny tweezers made from insect muscle cells to work in air
Scientists in Japan have developed the first biohybrid microdevice that can function in air. The microtweezers powered by insect muscle tissue could be used to handle cells and other fragile objects as part of a microelectromechanical system (MEMS).
A cyborg jellyfish driven by rat heart cells is part of a recent flurry of research into devices that use mammalian muscle cells to provide motor power. Higher energy efficiency and the ability to self-repair are just some of the benefits of using cells in tiny devices. However, biohybrid devices don't typically work outside cell culture medium. Now, a team lead by Keisuke Morishima at Osaka University has used insect muscle tissue to fabricate a microtweezer device that can operate in the open air.
Morishima's team assembled the microtweezers from polydimethylsiloxane and muscle cells taken from moth larvae and packaged them into a capsule containing a small amount of cell medium. The capsule's clever design exploits a surface tension effect to stop medium from spilling even if the device is flipped upside down.
'These results indicate that it will be possible to utilise insect muscle tissue and cells as microactuators both in a wet environment, such as in a microchannel, and on a dry substrate, such as on a silicon MEMS structure,' says Morishima. When the team layered the medium surface with paraffin to slow evaporation from the opening of the device the microtweezers were functional for up to five days.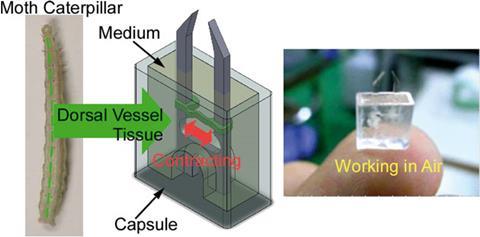 Shuichi Takayama a microfluidics and nanotechnology specialist at the University of Michigan in the US says that 'while a variety of muscle-based actuators have been reported, this device is interesting as it is capable of operating in harsh environments. It is a great idea to combine robust muscle tissue from insects with clever packaging.'
The group now hopes to integrate muscle tissue that functions in both wet and dry environments into devices to expand their work into the nanorobotics field.