Rafael Luque discusses funding for early stage researchers and the importance of green chemistry with Anna Simpson
Rafael Luque discusses funding for early stage researchers and the importance of green chemistry with Anna Simpson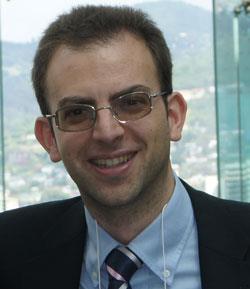 Rafael Luque is the Ramon y Cajal fellow at the University of Cordoba in Spain. His interests range from materials science, nanotechnology and heterogeneous catalysis to biomass valorisation and biofuels.
How did you get to where you are today?
I was always fascinated by chemistry because it's in everything. This table that we are sitting at is chemistry!
I did my undergraduate degree at the University of Cordoba in Spain and I was delighted to receive a grant to do my PhD in the organic chemistry department there. I started to have my own ideas and in pursuing them, my supervisors were always happy. It all worked out really well in the end!
During my PhD, I spent six months at the green chemistry centre of excellence at the University of York in the UK. I worked with Duncan Macquarrie who had a big impact on my career. I am very grateful to him and to James Clark for this. After my PhD, I returned to York as a green chemistry research associate and spent some of the most wonderful years of my career to date there. Everything went very well in York; however, after three and a half years as a postdoc, I needed to move on with my career and my life. So, due to personal and family pressures, I decided to move back to Cordoba. In the beginning, this was difficult but I managed to get a nice fellowship and now have a small group of four PhD students and a postdoc starting soon.
What are the biggest challenges facing young researchers and what's your advice for someone about to embark on the next step after a PhD or postdoc?
Innovation is the key to success. You can't get grant money for doing the same thing that we have been doing for over 20 years, it must be new work.
Getting funding and grants is challenging, but even with a very small group, such as one masters or PhD student, you can start to do more work. I have met lots of innovative and creative people in Europe and Spain. They have lots of interesting ideas and promising research but the problem is they need basic funding to progress. My advice is to keep trying and not lose courage as generally, if you are unsuccessful, you have to carry on and fight for what you want to do.
You have quite wide ranging research interests but the theme that underpins it all is green and sustainable chemistry. Why is green chemistry important?
Green chemistry is going to be everything in the future. We will be using green products made using technology with low environmental impact and utilising locally sourced materials and even waste. The perception of waste as a resource rather than a problem is something we have to change in people's minds. We still have some work to do there.
After working in both the UK and Spain, what differences did you experience between the chemical research communities in these countries?
There are lots of differences. In the UK, there are big funding agencies to support researchers. This is something we lack in Spain, but I must stress that in Spain, I have found that we are good and very competitive in terms of publications and research. We are innovative and creative and I was very pleased to see, when I got back, that there were so many people doing such a great job - it is a big inspiration for me. It is especially apparent with young researchers. They lack resources but are still self-motivated to pursue their dreams, which is very encouraging. I take care of students and encourage them to carry on because I can see that this degree of motivation is getting them everywhere. I love teaching - there is always a way to engage the students to learn about chemistry. Being a young academic often helps because students feel closer to you as there is not an age barrier. The language and the way you communicate with the students are not so different.
Where does your funding come from?
At the moment it's mostly national and regional funding. This wasn't particularly easy to get, but the government supports young researchers with groundbreaking ideas. The funding I received is aimed at early career researchers and for me, after proposing one of these groundbreaking concepts, it was helpful that I could get some funding - it allowed me to go back to Cordoba.
Hopefully, at the end of October, I will try my best to be successful with a European bid, which could potentially put me in a more stable situation and allow me to grow a bigger group. This funding, called a 'Starting Research Grant' is indeed a lot of money - 1.5 million Euros - so it could have a big impact on my career. Its purpose is to allow someone to develop ideas and start an independent research group that could lead to important developments for Europe. We plan to work with lignocellulosics and lignin, one of our main targets.
What do you like to do when you are not doing chemistry?
I love travelling - it's one of my favourite things, so I have been all over the world except for Australia and New Zealand. When I'm at home, I'm addicted to video games; I must admit that I am a big fan. Other than that, I love music, so if I wasn't a chemist I would probably be a DJ.
Link to journal article
A versatile supported cobalt(II) complex for heterogeneously catalysed processes: conventional vs. microwave irradiation protocolsFatemeh Rajabi, Alina M. Balu, Fatemeh Toreinia and Rafael Luque,?Catal. Sci. Technol., 2011, 1, 1051DOI:10.1039/c1cy00101a
Transformations of biomass-derived platform molecules: from high added-value chemicals to fuels via aqueous-phase processingJuan Carlos Serrano-Ruiz, Rafael Luque and Antonio Sep?lveda-Escribano,?Chem. Soc. Rev., 2011, 40, 5266DOI:10.1039/c1cs15131b
Catalytically active self-assembled silica-based nanostructures containing supported nanoparticlesCamino Gonzalez-Arellano, Alina Mariana Balu, Rafael Luque and Duncan J. Macquarrie,?Green Chem., 2010, 12, 1995DOI:10.1039/c0gc00282h