The death of Charles Rees on 21 September has taken from our midst a chemist of exceptional talent, and a wonderful human being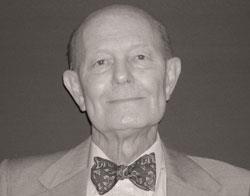 The death of Charles Rees on 21 September has taken from our midst a chemist of exceptional talent, and a wonderful human being. Charles rose up the ranks having started the hard way. He was born in Cairo, son of a serviceman, and was educated at Farnham Grammar School when the family settled in Aldershot.
He left school after matriculation, and was employed for three years as a laboratory technician at RAE Farnborough. He studied for his higher school certificate at night school, and gained admittance to University College Southampton (now the University of Southampton) where he completed an external University of London degree in chemistry, gaining first class honours, in 1950. His PhD was followed by his first academic appointment at Birkbeck College, from where he moved on in 1957 to King's College. He often looked back with affection on those days, not least because at the beginning, he shared an office with John (later Sir John) Cadogan. Having risen to the rank of Reader at King's, Charles moved in 1965 to be professor of organic chemistry in the University of Leicester, and in 1969 he was appointed Heath Harrison professor of organic chemistry at the University of Liverpool.
This was a short-lived tenure, since one year later he moved to Imperial College London as Hofmann Professor, where he remained until his death. He took early retirement in 1993, but no-one would have known since he was in College almost every day, from early morning to late evening, and at weekends. In his so-called retirement, he maintained his encyclopaedic knowledge of organic chemistry, and delighted in attending almost all departmental seminars, writing notes in his small notebook and asking penetrating questions in his usual polite, humorous style.
Charles Rees was a renowned synthetic chemist whose work embraced reactive intermediates, unusual extended aromatic systems, and sulfur-nitrogen heterocycles, all of which was underpinned by a rigorous approach to structure and mechanism. Some of his seminal early contributions were concerned with the highly reactive species benzyne, and a land mark paper in 1964 with C D Campbell described a novel and operationally simple method for its generation.
The study of nitrenes was a long-running theme of Charles Rees's research, including a practical synthesis of indole-2-carboxylic acids by intramolecular insertion. This culminated in the total synthesis of the bacterial coenzyme methoxatin. Charles Rees and his group also investigated the synthesis and properties of unusual aromatic systems, such as tricyclic [10]annulenes, and achieved the synthesis of 2a1-methyl-2a1H-cyclopenta[cd]indene. In his later work, Charles's contributions centred on the study of unusual sulfur-nitrogen heteroaromatic compounds, especially those possessing multiple sulfur atoms within the ring.
Charles Rees published around 500 scientific papers, and was elected Fellow of the Royal Society in 1974. He was RSC Tilden Lecturer in 1974, Pedler Lecturer in 1984, and held the RSC International Award in Heterocyclic Chemistry in 1980. Charles Rees was variously President of the Perkin Division of RSC, and Chair of the Publication and Information Board.
He was a very effective President of the RSC from 1992 to 1994, and became CBE in 1995. He brought to the role of President his usual incisiveness, allied to his great social skills. Charles was a man who hugely enjoyed being with people, and was a legendary raconteur and wit, accomplishments which served him well as an ambassador for UK chemistry during this time.
In addition to his tireless enthusiasm for his subject, Charles was a bon viveur, with an appreciation of fine wine and good food. He shared an enjoyment of theatre and good music, including opera, with his wife of 53 years, Tricia, attending performances right until the end.
Charles Rees had that rare talent of making everyone he met feel better about life. He is sadly missed by his family, and his colleagues and students.
David Phillips, Professor Emeritus, Imperial College London.