Potential treatments for tropical disease have been found in compounds isolated from a plant used by indigenous group in Peru
Researchers have found potential new treatments for the tropical disease leishmaniasis, by isolating compounds from a pepper plant used by Peru's native Chayahuitas people as an anti inflammatory.
Leishmaniasis, a disease transmitted through the bite of an infected sand fly, affects two million people each year with a further 350 million thought to be at risk worldwide. The most common form, cutaneous leishmaniasis, results in sores on the skin while the more dangerous visceral leishmaniasis can attack internal organs and ultimately cause death.
Despite the millions of people affected, the disease is mainly present in the developing world and there are few treatments available. 'Current drugs are based on antimony compounds,' says author Nicolas Fabre of the Institute for Research and Development and the University of Toulouse in France. 'But these present renal and cardiac toxicity. Other drugs such as Amphotericin B, also cause a lot of adverse effects. On top of that these treatments are very expensive and unfortunately this disease affects poor countries.'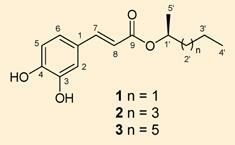 Hunting for new drug leads, Fabre, with colleague Michel Sauvain and their teams in France and Peru, turned to natural remedies used by the Chayahuitas, a native Peruvian group strongly exposed to leishmaniasis. One of plants the team analysed was the pepper plant, Piper sanguineispicum, whose leaves are used by the Chayahuitas as an anti-inflammatory.
Fabre and Sauvain isolated a number of new compounds from the leaves and tested their ability to kill the disease in vitro. Among these they found three new caffeic acid esters which all demonstrated good activity towards the infecting form of the disease, while showing only moderate toxicity against living cells.
'The most interesting result is the selectivity of the activity,' says Fabre. 'The antileishmanial value is nothing if compounds are toxic to cells.' However he is quick to exercise caution: 'It is worth noting that these results are very preliminary and in vivo investigations are needed to confirm the interest of these esters.'
Felipe Ot?lvaro, a professor of natural product synthesis at the University of Antioquia, Colombia, believes the group's findings have good potential. 'The three compounds have more or less similar activities to Amphotericin which is really hard to achieve,' he says. 'While it needs more experimentation in vivo, these assays give hope that you're getting close to a leading compound and it's especially nice because the structures are not complicated.'
Manisha Lalloo
References
et alJ. Nat. Prod., 2010, DOI: 10.1021/np1005357