The US Food and Drug Administration (FDA) has unexpectedly refused to approve Merck's cholesterol-lowering drug Cordaptive
The US Food and Drug Administration (FDA) has unexpectedly refused to approve Merck's cholesterol-lowering drug Cordaptive.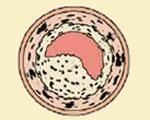 Cordaptive's therapeutic ingredient is niacin (nicotinic acid) which US doctors already prescribe widely in other proprietary forms because it reduces serum LDL (low-density lipoprotein or 'bad cholesterol') and raises serum HDL (high-density lipoprotein or 'good cholesterol'). Both these effects are generally believed to protect against dangerous build-up of arterial plaque (atherosclerosis).
But the drug's novel aspect is its second ingredient, laropiprant, added to reduce the unpleasant skin flushing caused by high doses of niacin. Merck believes that the combination drug is much better tolerated than niacin alone, whose side-effects cause it to be rejected by some 20-30 per cent of patients.
The FDA did not disclose its reasons for withholding approval, but they may be related to the lack of outcomes and long-term safety data, said Prediman Shah, director of atherosclerosis research at the Cedars-Sinai Medical Center in Los Angeles, US. 'Laropiprant interferes with a prostaglandin pathway, which theoretically could have collateral undesirable effects,' he explains.
Merck believes laropiprant acts only on a very few body cells in the skin - so-called Langerhans cells - and is therefore unlikely to cause significant systemic toxicity. However, it has not proved this in a trial with clinical endpoints.
Merck's shares slumped 5 per cent on the announcement. Analysts think Cordaptive could have generated $600 million (?300 million) in annual sales by 2011 if it had been approved. Abbott's rival formulation of niacin, Niaspan, approved in 1997, sold $658 million last year.
Dear prudence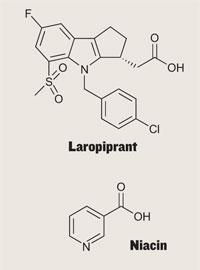 Some scientists have questioned why the FDA chose to make this display of prudence when, just a week earlier, Europe's Committee for Medicinal Products for Human Use had approved Cordaptive (called Tredaptive in Europe).
'The FDA has become very cautious about approving drugs purely on the basis of surrogate biomarker data like LDL and HDL,' says Jay Heinecke of the University of Washington School of Medicine in Seattle, US, who researches lipoprotein metabolism. While in the past the FDA was willing to approve anti-cholesterol drugs - such as Merck's Zeltia and Vytorin - merely because they can lower LDL, its attitude has been changed by some big surprises in recent clinical trials, says Heinecke.
Foremost of these was Pfizer's torcetrapib, whose approval was widely regarded as a foregone conclusion until clinical trial results published in December 2006 demonstrated that it increased mortality. More recent publications have also cast doubt on whether Zeltia and Vytorin deliver genuine clinical benefits, as opposed to merely controlling lipid levels.
This means that the FDA will increasingly require studies based on clinical endpoints, such as survival. 'More and more, trials based on surrogate endpoints [biomarkers] will not fly,' says Shah.
Timely lesson?
The shift in attitude is welcomed by some who believe pharmaceutical companies have been getting too easy a ride from regulators. James Wright, a clinical pharmacologist at the University of British Columbia in Vancouver, Canada, says that the torcetrapib example 'should have taught all regulators around the world that they should not license any drug or drug combination based on effects on surrogate lipid markers'.
Indeed, Wright believes that the positive evidence for niacin itself is weak. 'It was shown a long time ago in a single trial to reduce cardiovascular serious adverse events compared to placebo,' he says. 'But it also increased a lot of other adverse events and it is unlikely that it reduced total serious adverse events.'
Wright insists that regulators should be demanding benefits 'in terms of morbidity and mortality before any such drugs are licensed'.
But Heinecke points out that this would have enormous financial implications. 'The purists might say that no drug should ever be approved without a clinical outcomes trial,' he says. 'But if that's the policy, there aren't going to be as many new drugs, because trials like that are very expensive.'
Another difficulty for the FDA is that controversy remains over the precise role of lipoprotein species in atherosclerosis. In particular, there is little agreement over the role of HDL, adding an element of uncertainty for an agency evaluating a drug such as niacin, which has a dual LDL-lowering and HDL-raising mechanism.
Peter Mitchell