Many researchers are becoming increasingly frustrated by the time that it takes Chinese customs to release imports and exports of vital research materials
Hepeng Jia/ Beijing, China
Many researchers are becoming increasingly frustrated by the time that it takes Chinese customs to release imports and exports of vital research materials. Some packages never make it to their destination, and delays in transporting lab materials often cause a hiatus in experiments.
'Transport delays have long been disrupting biological research in China, and the Beijing Olympic Games in August 2008 just highlighted the problem,' says Liu Guozheng, vice-president of Beijing Proteomics Institute, the largest local supplier of antibodies in China. For years no-one had spoken out because the number of samples affected was relatively small and there were ways to get around the system, added Liu. But the rapid expansion in China's life science sector has brought a new significance to the problem. 'It is alright if you only need to ship one or two proteins, but for anyone who wants to develop large-scale antibody banks or services, the problems could be fatal,' said Liu.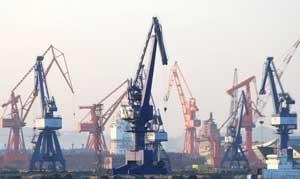 According to Liu, delivery companies and airlines often refuse to carry the dry ice used to chill antibodies and reagents. Carsten Lauridsen, director of research and development for Danish firm Novozymes' Chinese business, complains that its enzyme or microorganism samples can be delayed in Chinese customs until the dry ice has evaporated. He believes that the delays may stop the company expanding further in China.
Fu Yan, co-president of Beijing-based Weiming Fortune Gene Drug Research Centre, says that transporting proteins between the centre's two labs in Beijing and 150-kilometre away Tianjin can be a nightmare, and was especially difficult during the Olympics. 'We generally use our own cars to transport proteins, but during the Olympics we had to take remote roads to avoid road safety checks,' Fu told Chemistry World .
'Sometimes we have to use our personal relationships to persuade transporters to accept our goods,' said Liu. Canny researchers have long resorted to disguising their products as acceptable goods. But such disguised goods didn't get through the enhanced security checks in place during and after the Olympics.
Zhu Huanhu, a graduate student at Fudan University's Institute of Developmental Biology and Molecular Medicine, is also badly affected by slow shipping. He often has to abandon his genetic studies on fruit flies because of problems importing the insects. The fly strains Zhu and his colleagues work on are usually bought from Bloomington Stock Center in the US. On arrival in China the shipment is generally held for several weeks in customs meaning that more often than not the flies are dead on arrival at the lab.
Xin-Hua Feng, a professor of cell and molecular biology at Houston-based Baylor College of Medicine, says that the lab material shipping problem is affecting the decision of many overseas Chinese scientists to return to China. 'The Chinese government should step up to train customs on how to deal with the ever-increasing biomaterial imports,' he said.