Europe launches a central repository offering reference samples of different types of nanomaterials
Ned Stafford/Hamburg, Germany
The European Commission's Joint Research Centre (JRC) has launched the world's first reference repository for nanomaterials, which will be used for safety assessment testing by national and international standardisation bodies.
The repository, developed and administered by the JRC's Institute for Health and Consumer Protection in Ispra, Italy, is starting out with 25 types of reference nanomaterials - such as carbon nanotubes, silver nanoparticles, titanium dioxide, cerium oxide, and bentonite - that are widely used in industrial applications, according to Christoph Klein, a scientific officer at the institute focusing on nanomaterials. The original collection were supplied as bulk loads directly from industry, such as makers of cosmetics or paints, and the intention is that more will be added in time.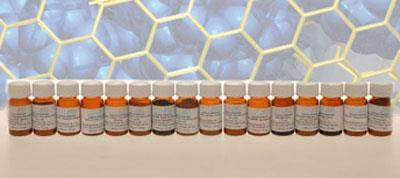 While acknowledging that there are currently hundreds of nanomaterials in use, Klein tells Chemistry World that the initial goal is to offer a 'selection of types that represent industrial use and availability.' Each sample vial is numbered and can be tracked around the world, he says, 'For the first time, we have introduced reliability to the process.'
The repository has already shipped vials of nanomaterials to national standardisation authorities across the EU as well as in the US, China and Japan, he says. He adds that it will enable researchers to produce comparable test results and reliable data on the chemical and physical identities of nanomaterials that can then be used for policy and regulatory decision making, comparable to those developed within the Reach (registration, evaluation, authorisation and restriction of chemicals) framework.
'The repository is a very welcome step for nanomaterials research, especially for people who need to calibrate instruments, validate new protocols and experiments, or develop new instruments,' says Alexandre Cuenat, lead scientist for nanomaterials metrology at the National Physical Laboratory in Middlesex, UK. 'We expect to use these materials regularly.'