E.ON pull out of the competition to develop a CCS pilot, leaving ScottishPower the sole contenders
On the same day UK ministers revealed a ?1 billion fund for the development of carbon capture and storage (CCS), power company E.ON UK announced it is pulling out of the government's national CCS competition, leaving just one company in the race. In 2007 the government announced a competition to build one of the world's first commercial scale CCS demonstration plants in a bid to strengthen the UK's position as a world leader in cleaner fossil fuel technology. Before E.ON's departure from the race, energy firms BP and Peel Power had already pulled out of the competition in 2008 and 2009 respectively.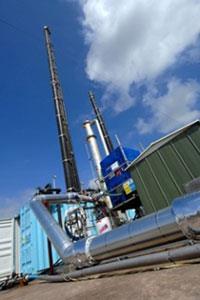 The current economic climate has made E.ON's plans to build a new coal-fired power plant at Kingsnorth uneconomical 'for the foreseeable future,' meaning the company will not have a facility on which to develop the CCS technology, E.ON chief executive Paul Golby said. The company also said it could not keep up with competition timescales and thus was left with no option but to withdraw from the race.
'As a group we still believe that carbon capture and storage is a vital technology in the fight against climate change and will now be concentrating our efforts on our Maasvlakte project in the Netherlands for future generation of CCS projects,' Golby said in a statement.
As part of the government's comprehensive spending review, chancellor George Osborne on Wednesday announced a fund of up to ?1 billion for CCS demonstration projects. Scottish Power, the only firm now left in the CCS contest, welcomed the government's decision and said it was 'committed to the CCS project at our Longannet plant and are on schedule with our engineering and design work.'
The Department of Energy and Climate Change told Chemistry World that 'Although Scottish Power is the only company eligible for the ?1 billion, it does not guarantee the company will satisfy all of the conditions to secure the money. We need to ensure that the taxpayers are getting their value for money.'
The government also announced that it is committed to launching three more such competitions before the end of the year and will begin a consultation to decide whether the money will come from a CCS levy on consumer bills or government funds.
Ayrshire Power, which was part of the Peel Power consortium that entered the first competition only to pull out last year, is keen to enter the new competitions. The firm is currently developing CCS technology for a planned multi-fuel plant at Hunterston power station in Ayrshire, Scotland.
Akshat Rathi