25 years ago in Chemistry in Britain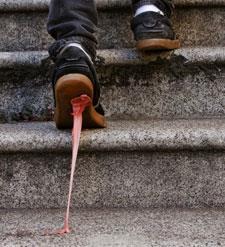 Contractors refurbishing Tottenham Hotspur's football ground found that they had a sticky problem. Prior to coating the concrete terraces with a non-slip material, the surface had to be grit-blasted clean. But that would not shift the estimated 10 chewing gums per square metre.
Don Kent, an ex-naval scientist, who had previously developed a release agent to remove chewing gum from carpets and floors (Chemistry in Britain, 1984, 20, 685), suggested mixing his 'Viper' surfactant (composition unknown) with the grit before it was blasted. The blasting breaks up the gum, while the scattered particles are prevented from re-adhering by the film of surfactant. The technique has been used successfully in several British Rail stations, for example Euston and Waterloo. Chemistry in Britain (September 1985)
Ed. Chewing gum can be removed from surfaces using low moisture, super-heated steam at high pressure, but other approaches have been used.
Revolymer of Bristol, UK, have changed the surface characteristics of chewing gum so that a stream of water or a mild soap solution can break the adhesion between chewing gum residues and surfaces such as paving stones, furniture or hair (Chemistry World, October 2006, p6).
Also, titanium dioxide, which can oxidise organic matter, built into the surfaces of buildings, pavements and roads, was investigated against chewing gum in London and Rome in 2009 (Education in Chemistry, January 2009, p6).
Finally, I cannot resist the old Arsenal joke: what do chewing gum and Tottenham Hotspur have in common? Answer: they both stick to the bottom of the table.