45 years ago in Chemistry in Britain
This year a School of Chemistry has been formed at the new University of Bath with Professor Bolland as the first Head of School. The buildings are designed to cope initially with an annual student intake of 40 to chemistry and 20 to process chemistry.
Research at the new school includes oxygen-halogen interactions, in particular between halides and oxysalts, the use of nonaqueous solvents for the preparation of inorganic compounds and the stereochemistry of metal complexes.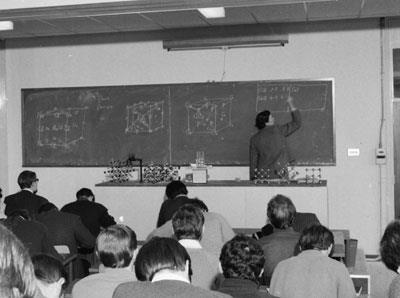 In the field of organic chemistry, a study of the reactions are synthesis of isoquinoline compounds is being carried out, together with the investigation of new routes to berbine and benzo[c]phenanthridine ring skeletons. The chemistry of arynes is also being studied with emphasis on reactions of synthetic importance.
Physical chemistry includes the electroreduction of organic compounds, electrodeposition from melts, gas chromatography as an analytical tool and moving-bed chromatography.
Ultimately the School of Chemistry should have an undergraduate population of 320, with 60 postgraduates and a staff of 50, including four or five professorial staff.
Chemistry in Britain (March 1966)
Ed: Rehoused in purpose-built, state-of-the-art laboratories in 2001, the chemistry department at Bath has a number of internationally leading research groups who undertake work in a diverse range of areas including chemistry for sustainable energy, catalysis in synthesis, materials chemistry, computational chemistry and electrochemistry.