Sue Black
Doubleday
2018| 339pp | £16.99
ISBN 9780857524928
Buy this book from Amazon.co.uk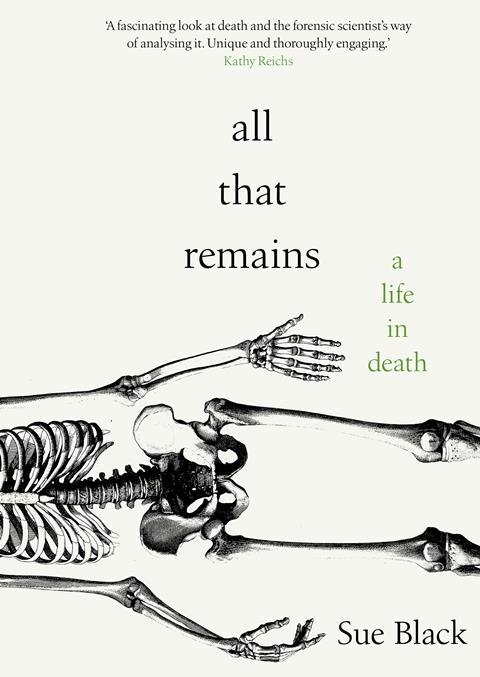 At the start of the 21st century, forensic anthropologist Sue Black completed a number of tours in Kosovo, where she helped identify the remains of men, women and children killed in the war. Confronted with the horrors of mutilated and burned bodies, of children murdered in front of their parents for no good reason, Sue and her team's job was to assist both in convicting the killers, and in bringing peace and closure to the survivors.
A professor of anatomy and forensic anthropology at the University of Dundee, Black's day job is no less gruesome. When she isn't teaching anatomy by dissection, she's assisting the police with high-profile criminal cases – identifying the bodies of missing people and giving evidence in murder trials.
In All that remains, Black shares her love of anatomy, her respect for death and her absolute determination to do everything she can for the families of those she helps identify.
You might expect a book about death to be morose, and perhaps difficult to read, but, holding the reader's hand along the way, Black manages to cover difficult topics with the right balance of science and compassion. It's clear on every page not just how dedicated she is to her chosen field, but the level of professionalism and morality she brings to her work.
Having taken part in dissection in an anatomy course myself, the author's advocacy for this method of teaching really rang true with me. There really is no teacher like these selfless donors, and I hope this book will encourage more people to donate their bodies to science.
I'm not sure I'd go so far as to say that reading it has lessened my fear of death, but I thoroughly enjoyed this book – not just because of my interest in anatomy, but also because it is a thoroughly gripping and eye-opening read, equal parts heart-wrenching and heartwarming.