Nanotubes and Nanowires (2nd edn)
Nanotubes and Nanowires (2nd edn)
CNR Rao and Achutharao Govindaraj
RSC Publishing
2011 | 556pp | ?139.99 (HB)
ISBN: 9781849730587
Reviewed by Karl Coleman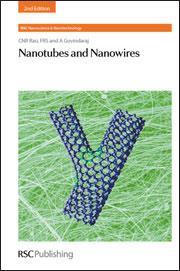 One-dimensional nanotubes and nanowires are in danger of being eclipsed by their two-dimensional cousins, graphene and related metal-sulfide materials. However, do not despair as there is a still lot to learn and discover with high aspect ratio materials.
The book Nanotubes and nanowires is now in its second edition and the first thing you notice is the size. The second edition has ballooned to exactly double the number of pages seen in the first! The questions that immediately arise are 'why?' and 'what is new'?
The structure of the book is almost identical to the first edition and the authors have stuck to the same themes, namely carbon nanotubes, inorganic nanotubes and inorganic nanowires. Discussing in turn what is essentially the synthesis, properties and applications, and in the case of nanowires the different varieties that can be made such as oxide, nitride and chalcogenide.
They have expanded some topics and included new themes such as the separation of metallic and semiconducting single-walled carbon nanotubes and chirality selection, both topical themes at the moment in carbon nanotube chemistry. There are perhaps a few more potential applications listed and the chapters on inorganic nanowires and nanotubes have grown.
However, the real change is the number of references, which has doubled in some cases. This is a good thing as the book is best used as a reference text and researchers in the field should find it very useful.
RSC members can purchase this book direct from the RSC for a 35% discount.