Sustainable solutions for modern economies
Sustainable solutions for modern economies
Rainer H?fer (ed)
Cambridge, UK: RSC Publishing2009 | 521pp | ?144.99 (HB)
ISBN 9781847559050
Reviewed by Frank Rosillo-Calle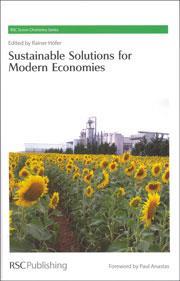 This is an interestingread containing a large variety of papers from experts around the world, aimed at the chemistry-inclined student and anybody with interest in subjects related to chemistry and economics. The book examines the potential of various forms of renewable energy raw materials.
In a consumer society increasingly questioning its consuming habits, the book is a call to save our precious natural resources.
The world has witnessed unprecedented global economic growth for many decades, largely based on the availability of energy. Chemistry has laid the foundations for many of the products we use today.
After 200 years of continuous use and abuse of natural resources, this book, as rightly stated in the preface, is a call to reflect on all aspects of sustainability to find new ways of public and corporate responsibility, to preserve our natural resources.
Issues covered are diverse: from the philosophical relationship between man and nature to holistic approaches towards sustainability of natural products and eco-efficiency analysis of natural products.
This diversity extends further: to consumer behaviour; food security; energy economics and alternative energy; and first, second and third generation biofuels. Towards the end of the book is a comprehensive description of green chemistry, followed by various aspects of solvents, sealants and white chemistry.
The book provides an excellent outline of the potential of chemistry in building a more sustainable world, addressing its latest and future applications.
Written by experts from academia, industry and investment sectors, this is an invaluable source of information for university students, industry and anyone who is interested in the sustainability of chemistry-related issues.