Ogledi o Vladimiru Prelogu (Homage to Vladimir Prelog)
Ogledi o Vladimiru Prelogu (Homage to Vladimir Prelog)
Miljenko Dumic and Krunoslav Kovacevic
Zagreb, Croatia: Faculty of Chemical Engineering and Technology 2010 | 616pp | for price contact publisher (HB)
ISBN 9789536470433
Reviewed by Ryan Gilmour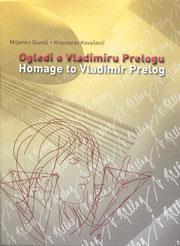 To many students of organic chemistry, the name Prelog is synonymous with stereochemistry. In particular, the Cahn-Ingold-Prelog nomenclature has become part of the language of the chemical world. This monumental contribution has, however, overshadowed many equally important contributions from Prelog's long and distinguished career. This book by Dumic and Kovacevic is an authoritative overview of Prelog's career, sensitively written in English and Croatian, Prelog's mother tongue.
This chronology of Prelog's life and works includes a thoughtfully compiled selection of articles by or about Prelog, describing his early work on, amongst other things, the constitution of quinuclidine, adamantane, Tr?ger's base and boromycin. Moreover, it is peppered with wonderful anecdotes from his distinguished colleagues including Duilio Arigoni, Jack Dunitz, Albert Eschenmoser and Dieter Seebach, giving the reader a unique glimpse of Prelog's personality.
The spirit of Vladimir Prelog is still very much at the heart of the ETH's Laboratorium f?r Organische Chemie, testimony to the profound impact that he had on those with whom he worked. Dumic and Kovacevic's wonderful text concisely summarises many of the reasons why the great man continues to inspire generations of young scientists.
Further Reading
Other related books
J D Dunitz, Vladimir Prelog (1906-98) - Pioneer of stereochemistry, Nature, 1998 391, 542