Gillian Andrews
MIT Press
2020 | 368pp | £20
ISBN 9780262538763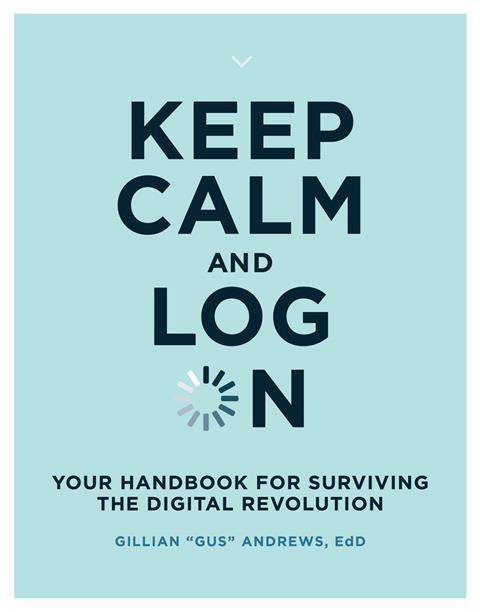 I started reading this book at the beginning of the Covid-19 pandemic, so I indeed really needed to 'Keep calm and log on'. Physical distancing came hand-in-hand with being catapulted into an online-only social and work life, so I embarked upon this offline read – what I gained from it was quite valuable in a time of such unrest.
As the title states, this is a handbook for surviving the digital revolution; and from the context of revolutions is how Andrews offers the book's contents. The familiar second world war motivational slogan alongside the scouts and guides oath provides the foundation for Andrews' 'Keep Calm Scout Laws'. These are a set of guidelines on how to navigate our online existence in four compartmentalised sections: online etiquette; online privacy and cybersecurity; innate biases and how they affect relationships with others online; and assessing online information.
There are worksheets, checklists, exercises and other resources scattered throughout this book that help readers understand how to disseminate information, as well as how to methodically determine what they want out of their online experience. This guide is very interactive and useful for anyone who would like to have more of a grasp of the digital world. For those people who, like me, feel they are bad with technology, the scout laws were also very helpful in managing the stress and anxiety that comes with moving around the online territory. On the other hand, there are also some insights for people who might be addicted to it.
While it gave me practical technical information on how to navigate the digitised world we live in, what I actually enjoyed most about this book was the historical context that the author uses to explain modern concepts. Posters and photos from the Depression era, the first and second world wars and other politically-fuelled images are used to draw comparisons between what was, what is, what now and what gives. So not only did I feel like this gave me the riggings to sail the seas of the digital revolution, broad history lessons were also part of the bounty.
My only hesitation to recommend this book is that it took me an extremely long time to churn through it. The language throughout was quite colloquial but at times, the writing style made me feel like being in a lecture. Not to say that that it wasn't a good read, but I definitely struggled. All-in-all, extremely informative, and absolutely made a positive impact on my mental health in the context of the digital world, especially during a pandemic lockdown.