Lead-acid batteries: science and technology
Lead-acid batteries: science and technology
Detchko Pavlov
Oxford, UK: Elsevier
2011 | 656pp | ?135 (HB)
ISBN 9780444528827
Reviewed by Richard Wills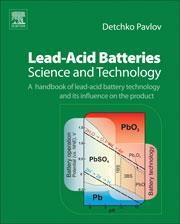 Detchko Pavlov is a name that is immediately recognised in the field of lead acid battery research. He is an ideal author for a book that provides a definitive discussion of the fundamental chemistry and manufacturing processes of lead-acid batteries. The science is provided in an objective manner with the pure aim of knowledge dissemination.
A gentle preamble through the history and essential aspects of lead-acid batteries is given before the author coherently develops the chapters into a detailed description of the technology, including paste development, electrode materials, curing, formation, battery storage and calculations for quantifying the active material.
The text is very accessible, being just as easy to navigate to specific sections for required information as it is to read in sequence as a textbook. The figures and tables are clearly presented and the text is accompanied by a comprehensive list of references for anyone requiring further information or original sources.
This book is an up to date resource for lead-acid batteries and should be an essential on the bookshelf of anyone, academic or industrialist, working in the field or with an interest in the chemistry.