Yuval Noah Harari and David Vandermeulen (authors), Daniel Casanave (illustrator)
Jonathan Cape
2020 | 248pp | £18.99
ISBN 9781787332812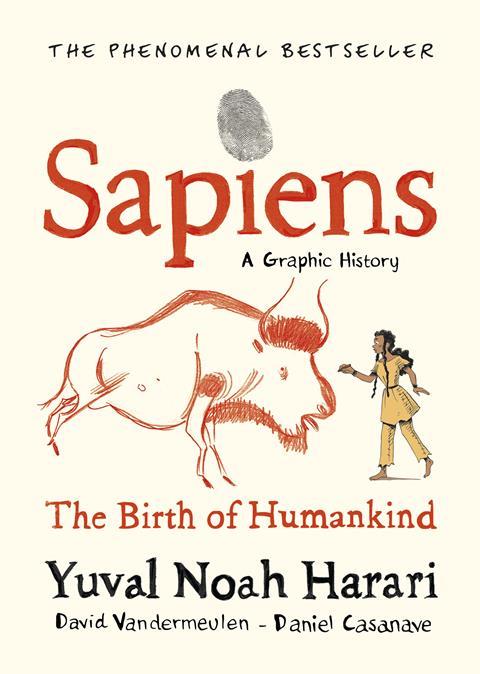 Buy this book on Amazon.co.uk
Buy this book on Bookshop.org
This book translates the first part of Yuval Noah Harari's bestselling popular science book Sapiens: A Brief History of Humankind into a graphic novel. Having enjoyed Sapiens, I was excited to hear about this version – and it came at the perfect time, during the UK's second lockdown, when screen fatigue was beginning to take its toll. I could finally look at something without glare!
Sapiens – A Graphic History is the first volume in a series, covering 'The Cognitive Revolution' section of Harari's original text. The authors guide us through thinking about early humans as animals that eventually developed into 'masters of fiction'. The book gives insights into how the first of our kind would have lived, before concluding that – spoiler alert – humans are intercontinental serial killers. Volume one thus ends with a poignant environmental note that we will all have to answer for our actions.
Just as with Harari's original, the opening is fantastic. We start with a prequel timeline, and then turn the page to a full-page image of Harari sitting in an armchair surrounded by space imagery and speech bubbles. The next few pages hook me with defining chemistry, biology and history, before Harari introduces himself as our guide and explains the aims of the graphic novel.
As the book progresses, we get to know our cartoon guide's young niece as well as several professors who teach Harari. TV shows, adverts and – my absolute favourite – a game of Hominins Top Trumps are some of the mechanisms the authors use to explain complex concepts. This makes the graphic novel even more approachable than the original book.
However, I did find my interest fade in the final two sections, which began to feel a little repetitive as concepts were rehashed. But perhaps this was in part a result of me polishing off these sections in a single sitting, snuggled up on a sofa during a cold and wet Sunday afternoon.
Pitched in a much more engaging and colloquial style than Harari's 2015 book, the graphic novel is clearly intended for a younger audience. However, some sections and concepts can be a little heavy and might be too dense for pre-teens, and, depending on the attitude of the moment, could be polarising for teenagers as they might be seen as too simplistic.
Adults who loved the original will likely love the graphic novel. Nevertheless, I'd also urge anyone reading this to exercise self-control and realise that unlike a comic or fiction graphic novel this one is better consumed in small chunks.