The real world of a forensic scientist. Renowned experts reveal what it takes to solve crimes
The real world of a forensic scientist. Renowned experts reveal what it takes to solve crimes
Henry Lee, Elaine Pagliaro and Katherine Ramsland
Amherst, US: Prometheus Books 2009 | 349pp | ?21.99 (HB)
ISBN 9781591027294
Reviewed by Mary Daniels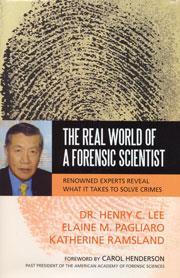 This book, written by three US experts in forensic science, provides a good introduction to forensic science, illustrated by real criminal cases. From viewing of CSI and other popular criminal science series, there is a tendency for people to think that forensics can easily solve the most difficult cases within the one-hour span of a TV episode - the truth is that it can take months to identify and assemble forensic evidence to solve a crime.
After a historical introduction, the authors outline the scientific method which underpins the science of forensics, including the collection, testing, preservation and reliability of physical evidence. There follow several chapters on the main techniques used in current forensic practice: fingerprints; firearms evidence; trace evidence and chemical analysis; DNA evidence; and forensic drug analysis and toxicology. The forensic scientist's role in the US justice system is discussed, including current questioning of the reliability of so-called 'expert witnesses'.
This very readable book is particularly pertinent since earlier this year the US National Academy of Sciences published a report entitled Strengthening forensic science in the United States: a path forward, which is critical of some of the techniques (especially fingerprints) used in forensic science. Its conclusion is that forensic science in the US is in need of an overhaul - including mandatory accreditation, a national oversight committee and universal standards.