Tom Clynes
Faber & Faber
2015 | 320pp | £14.88
ISBN 9780577298136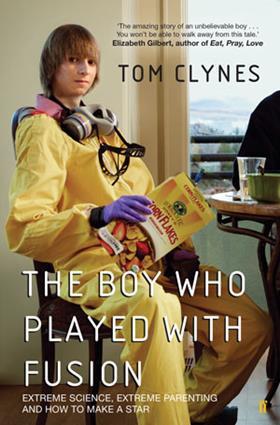 The boy who played with fusion follows Taylor Wilson's incredible journey from childhood through to the present day. Science journalist Tom Clynes takes you through the slightly jaw-dropping life story of the American teenager who became the youngest person ever to build a working nuclear fusion reactor. You really can't help but be quite amazed by the story he tells about this child genius.
At nine years old, Wilson had mastered the science of rocket propulsion. At eleven, his grandmother's cancer diagnosis inspired him to investigate new ways to produce medical isotopes. By fourteen, Wilson had built a 500 million degree reactor and became the youngest person in history to achieve nuclear fusion. With every part of Wilson's story you really are left wondering how someone so young could achieve so much. The extraordinary nature of his talents is quite amazing. In some ways I felt this plays a part in making the story quite hard to relate to. While reading the book, I had to keep reminding myself everything I was reading was true, and that someone this gifted does exist! I found myself constantly reflecting on the fact that this is a true story about a young boy's life in order to stay engaged with the book. With this, I came to the realisation that the world must seem a remarkably different place from Wilson's perspective.
His talent and passion for learning was relentlessly supported by his parents while growing up, and still is to this day. He attended a public high school for academic high-fliers and now, at nineteen years old, Wilson is designing devices to prevent terrorists from shipping radioactive material into the country.
The book also details the relentless support his parents gave him, having identified his talent early on. It also raises questions about how our education system supports such gifted students, and the role parents and teachers play in a child's upbringing. However, I couldn't help but stop and think about the support that less high achieving children get and the detrimental impact this could have on young lives.
I would definitely recommend reading this book. You will be truly amazed by Wilson's talent and find it an enlightening insight into the childhood of a science genius. You will probably be left wondering what society can do for people like Wilson as well as those less talented, how our support, or lack thereof, can affect their development and, if you are anything like me, wonder how such a talented child could ever be born.