Hydrogen energy: challenges and prospects
Hydrogen energy: challenges and prospects
D A J Rand and R M Dell
Cambridge, UK: RSC Publishing2008 | 338 pp | ?45.00 (HB) ISBN 9780854045976
Reviewed by Dennis Hawkes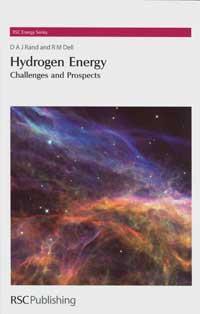 My first impression of Hydrogen energy was disappointing as I opened it and flicked through the pages. The photographs were all in black and white and especially in the later chapters had somewhat funereal black borders. But as I started to read, that impression was quickly dispelled.
It is a timely, balanced, fact-filled and well-written book, which does not gloss over the difficulties faced in a hydrogen future. These include the problems of distribution and storage of hydrogen and there is a comprehensive analysis of possible storage materials and methods. In hydrogen's manufacture the problems of the capture and storage of carbon dioxide (CCS) are well covered. The authors rightly point out the bleak future faced through increasing atmospheric CO2 and point to the need for energy conservation and the vigorous need to exploit renewable, sustainable forms of energy. It is disappointing therefore to see only a few pages devoted to hydrogen from biomass, especially wet biomass, which would include the many sources of agri-food industry wastes, although the authors do recognise its future potential.
Throughout the book the technologies and techniques used in the hydrogen world are well defined. The boxes at regular intervals are very helpful in explaining energy terminology and scientific principles such as the physical principles of photovoltaic cells. Clear diagrams are helpful and throughout the chapters the science is always well explained.
Altogether this excellent book is a very welcome addition to the hydrogen literature.