James Lovelock, born in 1919, was a frustrated physicist who graduated in chemistry and published in journals from astronomy to zoology
He knew he was right
John Gribbin and Mary Gribbin
London, UK: Allen Lane 2009 | 356pp | ?20.00 (HB)
ISBN 9781846140167
Reviewed by Derry Jones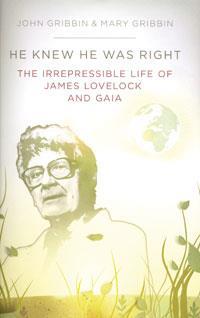 James Lovelock, born in 1919, was a frustrated physicist who graduated in chemistry and published in journals from astronomy to zoology. The future Nobel laureate Alexander Todd accepted the outspoken Lovelock into Manchester's second year in 1939 and recommended him to the National Institute for Medical Research. During his '20-year apprenticeship' with the MRC (1941-1961), Lovelock helped to dispel common-cold infection myths and spent sabbaticals at Harvard Hospital and Yale. Back in biochemistry at Mill Hill, where Archer Martin was developing gas chromatography, Lovelock invented the ionisation and electron capture detectors. The latter helped detect atmospheric DDT, CFCs and other compounds and led to the Gaia hypothesis, a metaphor of the earth as, in some sense, a single living system.
The experienced authors John and Mary Gribbin have deftly merged an entertaining, authoritative life of Lovelock with a concise summary of the evolution of the Gaia theory of earth system science as told in Lovelock's autobiography Gaia (2000) and his other books.
Thanks to Lovelock's persistent interaction (as an independent consultant) with scientists across several disciplines, sympathy with the Gaia approach increased, while collaborators' models highlighted the dangers of global warming. Recalling his Nasa experience in 1961-1963, Lovelock campaigns that the threatened climate-change catastrophe should engender a wartime top-down scientific effort. He urges both building nuclear-fusion power stations and reduction of fossil fuel burning and warns of the damage to Amazonian forests.
Sceptical about wind power and deceptively green biofuels, he defends some industries as more far-sighted than most governments. Lovelock criticises shoddy science, misuse of trace toxic-chemical measurements, and excessive expenditure on nuclear decommissioning. His interdisciplinary achievements argue against specialisation in science education.
This admirable biography describes the remarkable career of an idiosyncratic scientist who poses serious questions for individual scientists and administrators about the emphases of future research.